Women in eDiscovery
[glossary_exclude]
Women have been making notable strides in professions that have been traditionally dominated by men—the technical legal field being no exception. This article features a national organization, Women in eDiscovery, as an example of some of the amazing things women have been able bring to the profession that help this generation of eDiscovery practitioners and the next to thrive.
Women in eDiscovery ("WiE") is a nonprofit community organization founded in 2007. Margaret L. Gavinag, Lana Schell, Shawnna Hoffman, and others saw a need to provide women with legal technology education, as well was networking and leadership opportunities. The goal was to give women practicing eDiscovery the kind of support they needed to be successful, whether they are working as lawyers, in litigation support, or on the eDiscovery service provider side.
Soon after its creation, other inspired women began starting local WiE Chapters around the nation. Flash-forward 11 years and WiE's goal is being met and exceeded every day. Today, there are more than 60 local chapters throughout the United States holding monthly and quarterly meetings for members, social mixers, community outreach opportunities, and charitable events. In October 2018, the San Diego, Orange County, and Los Angeles Chapters collaborated to host the first-ever Southern California Regional Tech Conference. And in 2019, WiE will put on its inaugural National Conference in Austin, Texas, from May 8th-10th.
WiE has been integral to the advancement of many women in technical legal careers, with members going on to become partners at law firms, heads of eDiscovery and
litigation support departments, and even owners of technology vendor companies. For example, founder Shawnna Hoffman currently serves as Global Co-Leader of the IBM Cognitive Legal Practice. She is also an Automotive, Aerospace & Defense Client Partner and was certified as an IBM Thought Leader in 2015. Justine Phillips, former president of the San Diego Chapter, was recently named Partner at Sheppard Mullin Richter & Hampton, LLP in 2018. Former Meetings Director Ruth Hauswirth serves as Director of eDiscovery and Litigation at Cooley LLP. Indeed, the success stories among WiE leaders and members abound, proving that women have what it takes to advance the practice of eDiscovery and make a meaningful impact within their organizations and firms.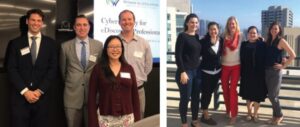 Left:  Panelists at the Southern California Conference 2018 (left to right) Tyler Crabtree, John Ellis, Candice Iha; Right: WiE's 2018 Board of the San Diego Chapter (Jessica Gross, Erin Tomine, Trish Zaheer, Emily Roman, Lauren Doucette)
But the women of WiE do not work alone. As a nonprofit, WiE draws on the support of both men and women in the community and from sponsors who believe in the importance of providing educational and leadership opportunities to women. As the famous African proverb goes, "It takes a village." In other words, an individual's upbringing is a communal effort, and one of the reasons the women of WiE have been so successful is because of the support the organization provides its members. Through efforts to raise women's current status in eDiscovery careers and charitable contributions to provide greater access to school-age girls, WiE is making important strides to ensure women thrive among their male counterparts for years to come.
Learn more at www.WomenIneDiscovery.org or contact [email protected] or [email protected][/glossary_exclude]
You may already have a formal Data Governance program in […]