News Release
June 4, 2021
Contact: Katie Tall
Katie@infogovworld.com
720-883-5481
Leading Organizations Demonstrate the Importance of Information Governance by Presenting at InfoGov World Expo 2021
San Diego, CA, June 4, 2021 – Leading businesses understand that strategic cybersecurity and data privacy initiatives must incorporate Information Governance (InfoGov) to be fully effective. Many of these globally recognized companies are demonstrating the importance of the emerging discipline of Information Governance by presenting at InfoGov World Expo 2021. The dates of the conference are September 14-17, with sessions scheduled to include United Kingdom, European, and North American time zones.
Major organizations participating in InfoGov World Expo 2021 include Fortune 500 companies, AmLaw 100 law firms, prominent consulting firms, and major financial services companies. Featured speakers representing leading companies include: Prudential Financial, Wells Fargo, HSBC, MetLife, DLA Piper, Reed Smith, Fox Rothschild, Baker Hostetler, White & Case, Walmart, McDonald's, Air Canada, and Heineken.
Renowned executives from these enterprises will lead educational sessions, panel discussions, and present case studies. Conference attendees will have a chance to meet and interact with the speakers through an avatar in a 3D, Virtual Reality environment.
"We are pleased and proud to have garnered the support of leading organizations for InfoGov World 2021," stated Robert Smallwood, Conference Chair. "This clearly shows that Information Governance is top-of-mind for leading businesses, who see it now as an essential part of not only corporate governance, but information security."
With more than one hundred top speakers from around the world, an immersive virtual expo hall, networking events, a career fair, and two days of training for industry-related certifications, InfoGov World Expo 2021 will be the world's first trans-Atlantic Information Governance conference presented in a 3D world.
To find out how your organization can participate in the conference, visit infogovworldexpo.com.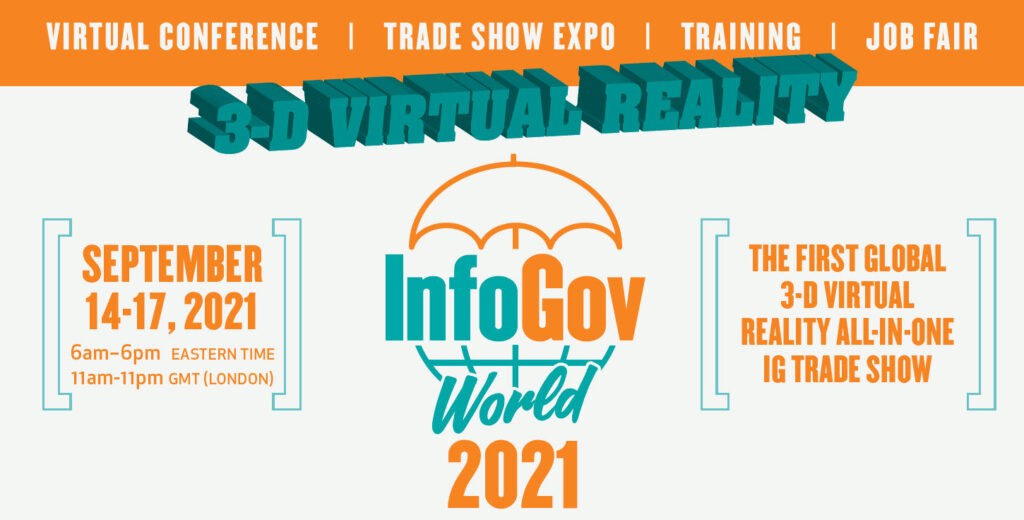 IG World magazine is pleased to announce the world's first global Information Governance (IG) conference, trade show, training, and job fair event to be held September 14-17, 2021 in 3D virtual reality (VR). The event will begin with two days of IG training sessions, followed by two days of interactive conference sessions in 3D VR, and concluding with a job fair. Uniquely, the conference will last 12 hours each day (6am-6pm ET; 12 noon to Midnight CET), covering time zones on both sides of the Atlantic. So multi-national companies may send attendees from around the world to participate in the conference sessions. Key topics in the conference sessions include data protection & privacy, eDiscovery, data governance, cybersecurity, infonomics and data monetization, content services, and more. The first keynote speakers have been announced: Dennis Kessler, Principal, Data Governance and Internal Policies at the European Stability Mechanism; and Bryn Bowen, Principal, Greenheart Consulting Partners. For more information,
Click Here
.
Certified Information Governance Officer Association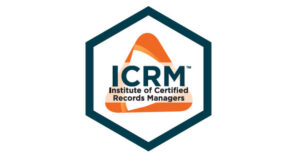 TO OFFER NEW CRM/CIGO CERTIFICATION Albany, NY and San Diego, CA, October 1, 2020 - The Institute of Certified Records Managers (ICRM) and the Certified Information Governance Officers Association (CIGOA) announce a strategic alliance partnership to jointly offer a new information governance (IG) credential for Certified Records Managers, the CRM/CIGO ...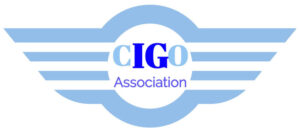 The Information Governance (IG) marketplace has been slow to mature, partly due to the lack of a comprehensive, updated, and valid IG certification that covers the full range of facets in the IG discipline. This prompted a group of IG leaders to form the new, "Certified Information Governance Officers Association" ...
Today we are visiting with data governance expert Sowmya Kandregula, Chief Data Officer at D.C.-area boutique consulting firm that specializes in integrating, consolidating and enriching data. 1. Where did you grow up? Go to school? I grew up in Vishakhapatnam, a city located in southern India, also called as the ...
Read More →

→
IG World magazine is pleased to announce the world's first global Information Governance (IG) conference, ...
Coming soon – more resources and opportunities to share!
We welcome your participation and encourage you to submit suggestions for topics to be covered in future issues.