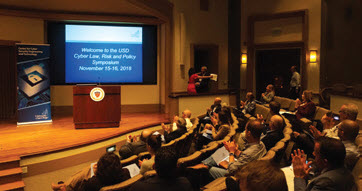 U of San Diego Hosts Cyber Law, Risk and Policy Symposium
[glossary_exclude]
Getting Schooled
The University of San Diego's Center for Cyber Security Engineering and Technology (CCSET) hosted a two-day symposium last November on Cyber Law, Risk and Policy. This event brought together cybersec industry thought leaders to discuss how the law impacts corporate cyber risk and polices.
One specific topic was the on-going dialog generated by the California Consumer Privacy Act (CCPA). California is once again leading the nation in privacy rights, as the CCPA is, to date, the most sweeping state legislation governing cyber liability.
The CCPA requires the CA Attorney General to "solicit broad public participation" for input to be used to draft regulations to clarify portions of the law, prior to its implementation in 2020. The Symposium provided attendees with the opportunity to hear cybersec experts from law firms, insurance companies, security companies and law enforcement discuss their views on "reasonableness" and reflect on how the law should be and will be implemented.
The Cyber Law, Risk and Policy Symposium featured all-star speakers and panelists including representatives from: Microsoft, IBM, Capital One, AAA, the PCI Council, CompTIA, Cylance, SPLUNK, vArmour, FBI, US Secret Service, the US Department of Justice and the San Diego District Attorney's Office as well as professional service organizations, law firms and insurance companies. This stellar collection of presenters and panelists provided the 100+ attendees with the opportunity to learn real-world insights into cyber centric topics such as: Live Data Breach & Ransomware Attack and Incident Response; Cyber Insurance: From Risk Transfer to Cyber Threat Response; Emerging Tech in the Law: Artificial Intelligence, Internet of Things and Blockchain; and Cyber Security and U.S. Elections and Cybersecurity Strategy: Raising the Risk Conversation.
Organized by USD's CCSET (https://sandiego.edu/engineering/cyber-security-center) and spearheaded by a robust advisory committee of top cyber professionals, the Cyber Law, Risk and Policy Symposium represents San Diego's national leadership in the effort to get out in front of the evolving legal landscape of privacy regulations and their intersection with industry compliance regulations. Planning for next year's Symposium is already underway. To suggest topics or volunteer contact Justine Phillips via email at: [email protected]  or [email protected].[/glossary_exclude]
You may already have a formal Data Governance program in […]