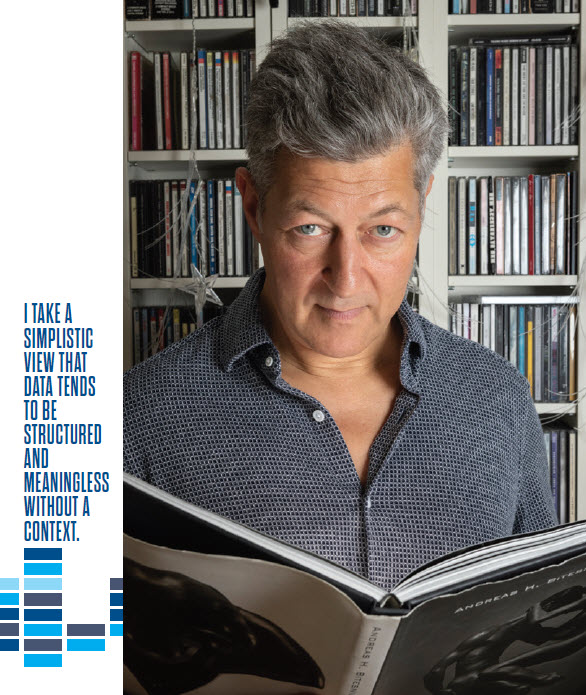 The Data Luminary Dennis Kessler of the European Investment Bank
[glossary_exclude]Dennis has worked in financial information management and change management in global organisations with an international career spanning more years than he'd like to admit. He has lived and worked in London, Hong Kong (five years), Osaka (five years) and Basel (Switzerland, also for five years, with the global banking standards-setting Bank for International Settlements) before taking on his current role in 2016 as head of data governance at the European Investment Bank in Luxembourg.
He constantly sees how managing and governing data properly can help to break down organisational silos, boosting collaboration and helping to clarify and improve corporate data, processes and operations.
All of this requires a change of culture with the managers of business areas becoming more directly accountable for data quality through meaningful ownership throughout the organisation.
Dennis is passionate about improving the way organisations value and treat their data. His work involves building and strengthening data governance teams and establishing a data culture across complex organisations. More than just establishing policies and standards, this work focuses on raising awareness among every level of staff, especially senior management, that managing and governing data is not a technical task for IT – instead it focuses on people and processes and the handling of a precious resource.
Ensuring data quality is a responsibility of every person who touches an organisation's data in any way. Engaging and incentivizing the right people is a critical success factor in shifting to a more data-aware culture. Treating data as an asset means everyone has to view and handle it as the precious resource it is.
Where did you grow up? Go to school?
London was my home until I went to university in Manchester, then returned to London to start my career as a SWIFT and financial messaging consultant.
What are your responsibilities at the European Investment Bank?
I lead the data governance team, which comprises our small central unit plus a network of data stewards who are permanently assigned to an individual directorate/department. We focus on four key pillars: building a business glossary of both business terms and data objects; managing and improving data quality throughout the EIB Group; information architecture and data modelling; and the newest element, governance over "end-user computing" (EUC) tools. The banking best-practice principles for managing risk data, BCBS 239, have had a huge impact in the banking industry, as well as other regulations, by putting a big spotlight on data governance and data quality management. Finally, these areas are now recognised as long-term business challenges and no longer as some obscure project that sounds like it should be sitting quietly in a corner of an IT department. We are working to improve data quality and business accountability, among other data-management domains, by introducing a lasting data-aware culture. It's definitely a very interesting time to be working in this field!
How did you get into the data governance field?
After returning to the UK from Japan in 1999, I did a lot of consulting work mostly with banks, which led to various change management and business analysis roles. Significant highlights were a lead consultant role on a big global data management programme for UBS during 2007-08, and later the first information governance lead at the Bank for International Settlements (BIS) in Basel from 2011.
How do you define data governance?
It's the framework of controls and processes which are regularly carried out to check how well data management activities are conforming the policies, standards and guidelines defined to achieve the desired good practices. They key to understand is that we do not govern data! Instead, we govern the various data management activities and practices. So, data governance is sometimes misunderstood—we govern the data-related activities in order to identify and reduce any gaps between the goals and the reality.
How do you see data governance in relation to Information Governance?
I take a simplistic view that data tends to be structured and meaningless without a context. Data is a specific subset within the overall universe of information. In practical terms with non-specialist stakeholders, thinking of data as structured stuff that lives in databases and flows through business processes is easy to distinguish from document-based information which tends to be unstructured.
How has Brexit affected or will affect the European Investment Bank policies?
The EIB is a not-for-profit institution which serves as the financing arm of the European Union. It exists to finance public-sector projects designed to support EU strategic development goals, including boosting employment, improving infrastructure (transport, water, electricity distribution and digital access), creating schools and hospitals, supporting green energy and environmental protection, etc. The Bank is owned and capitalised by its shareholders which are the EU member states. The UK was a 16% shareholder, and has enjoyed receiving over $7bn per year in long-term loans for the past few years. After the UK leaves the EU, it will no longer be eligible to receive such long-term development loans, which the vast majority of industry associations are deeply concerned about. However, the UK will have to continue repaying its existing loans for many years.
Has the GDPR had an impact at the EIB? If so, what challenges did you face in preparing?
There is actually a very similar but slightly different regulation which applies to EU institutions like the EIB, not GDPR. However, the goals are the same—as are the challenges. It starts with knowing what information you have, stored where and for what purposes, etc. Once you start to map the terrain, you can then start applying policies. The EIB deals with counterparties which are mainly themselves corporate entities. It doesn't provide loans to individuals, so doesn't have the same burden of managing customer records and sensitive customer data as a typical retail bank. Nonetheless we are working to become clearer about what data we have, what we ask for from job applicants, consultants, and other service providers—then store and retain that data consistent with the lofty goals of GDPR.
How is the EIB addressing the crypto-currency trend? Is it a threat to the traditional banking system?
The EIB is completely separate from the European Central Bank, which based in Frankfurt and is the engine of banking supervision in the entire region. As a public-sector lending institution, the EIB focuses on development goals and not on banking trends and the regional banking system.
How many languages do you speak? How and where did you learn them all?
I speak a few languages, most shockingly badly. I learned some Hebrew while studying at the Hebrew University in Jerusalem in the early 1980s for half a year. I learned some Arabic when I worked in Cairo for a few months while taking a break from university. I learned some Cantonese while living and working in Hong Kong as a SWIFT banking systems consultant in the early 1990s. It was never conversational but I could argue with taxi drivers and order 20 kinds of dim sum without needing a menu or pictures. I learned decent Japanese during five years living and working in Japan in the late 1990s. My Japanese was just starting to get decently conversational when we relocated to the UK with a baby on the way.
From 2011, I started learning German while working in Basel, in the German-speaking part of northern Switzerland. My German was OK but practicing wasn't always easy as they speak a wonderfully strange dialect of "Swiss-German" over there, not the traditional "high German" of their big neighbour to the north. And having being based in Luxembourg since mid-2016, I've had the chance to improve my French, which isn't too bad and getting better.
I should add that my English also isn't bad. I had the great good fortune to spend a couple of years working as a freelance business writer and journalist at the Economist Intelligence Unit in Hong Kong, where I wrote for the EIU and the Euromoney Group. The Economist Group has famously high editorial quality and superb punchy and tight writing. I was trained as a subeditor which gave me a lot of insights into the differences between good, bad and superb writing – more than anything else, it's clarity and simplicity. That editorial training, together with the perspectives of knowing a few other languages, taught me a lot about my own native tongue. I really appreciate good writing and have enjoyed giving training courses in the mysterious craft known in the UK as "Plain English."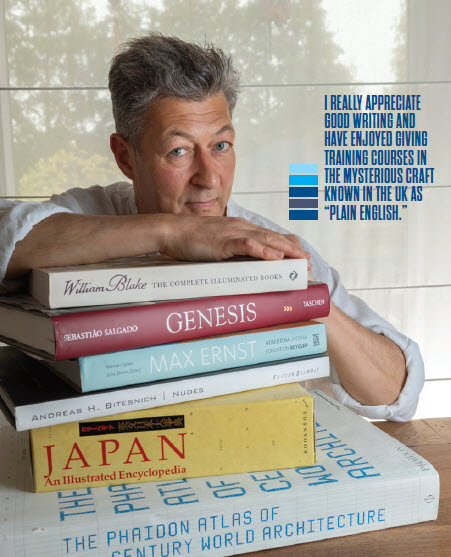 What do you like most about Luxembourg?
Luxembourg is a tiny, charming and beautifully green country nestling between Germany, France and Belgium. The quality of life here is very high, and its heaven for people who enjoy hiking, cycling, and even just fresh air.
It's very clean – roads, paths and tracks are all immaculately maintained by the government and local authorities; as in Switzerland, it's pretty rare to see even a single piece of trash on the ground. Standards of everything are very high—just like the cost of everything, which isn't really surprising when you consider that little Luxembourg is by far the wealthiest country in Europe and one of the wealthiest in the world in terms of GDP per capita.
Generally, the people are friendly and helpful—not to mention amazing linguists. Most kids are brought up speaking French, German, English, and "Luxembourgish," an enigmatic language which is really what often separates the true locals from the enormous percentage of foreign professionals living and working there with their families. The population is just over 610,000, almost half of whom are foreigners like me. Yet I'm always made to feel welcome, never resented. Luxembourgers are very pragmatic. They're rightfully proud of their remarkable little nation, and know that their continued prosperity depends on the steady supply of skilled professionals to help fuel their economy. Many non-resident foreigners work in Luxembourg but live over the border in neighbouring France, Germany or Belgium. And that reminds me about the only thing that everyone agrees to dislike about Luxembourg (apart from the high prices)—and that's the traffic. Because the population literally doubles every day, as hundreds of thousands of people commute daily from over the borders, and then back out again. If you get the timing wrong, the traffic is among the worst anywhere in Europe. And that's why the government is unilaterally making all public transport entirely free, in an effort to encourage people to leave their cars at home.
And I have to mention how lucky we are to live just 20 minutes from the beautiful Moselle Valley, which produces magnificent white wines, especially the famous Riesling, as well as Pinot Gris and Pinot Noir. And then there's the wonderful "Crémant", which is Luxembourg's traditional sparkling wine which usually rivals good French champagne. We now are truly blessed and spoiled in equal measure.
What do you miss most about living in Basel, Switzerland, when you were with the Bank for International Settlements (BIS)?
Despite being small it has a huge number of museums, including some of the world's finest art galleries and museums. Also, Basel is located right on the border with both France and Germany, which makes it easy to cross the border on a Saturday for your weekly grocery shopping or even just to get some fresh croissants. Also wonderful was being just a few hours' drive from the lakes and mountains of northern Italy, as well as the magnificent Black Forest in southern Germany.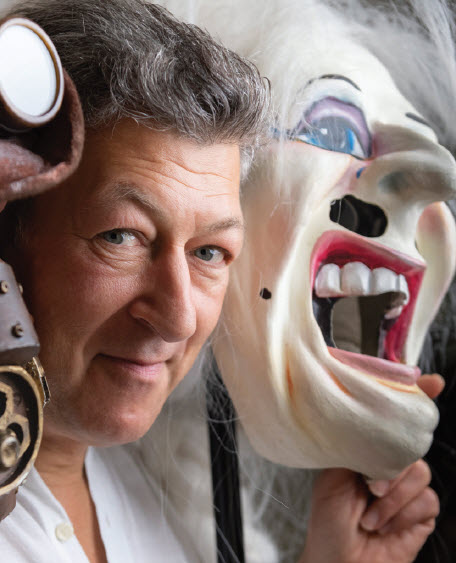 But of course, what we miss most of all is people. During five years of living and working we made a lot of good friends—who are still just a four-hour drive south. One of the things I miss the most is the "Fasnacht" traditional carnival group I was invited to join. These are made up of close communities of locals who share a real camaraderie and sense of living tradition and heritage. Fasnacht is a wild traditional three-day festival featuring indescribably surreal and sometimes even disturbing masks and costumes. I joined one of the most well-established "Guggemusik" marching bands, and learned to play the sousaphone (the big wraparound tuba that takes up the rear in typical marching bands). It was an especially rare honor for a non-dialect-speaking foreigner to be invited to join such a community—and indeed, "fitting in" and becoming part of the family is considered much more important than instrumental skill. Last year Basel's Fasnacht carnival was elevated with UNESCO Intangible Cultural Heritage status.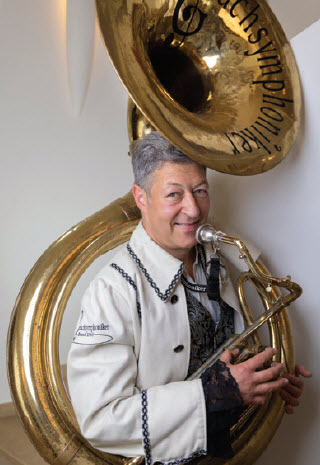 What hobby or special skill do you have that might surprise most of your colleagues?
I've enjoyed a richly varied career which has been far from linear. Something which doesn't appear on my resume is the fact that while living in Hong Kong I worked as a part-time classical-music radio presenter and producer, and that work led to the strange, surreal world of dubbing Hong Kong kung-fu epics from Cantonese into English for international distribution. I worked with a skilled team led by expat friends and mainly hired by the big movie studio Golden Harvest as well as some Chinese film studios. I worked on some big productions featuring Jackie Chan when he was a huge star in Asia but before he broke into Hollywood. Dubbing the group fight and battle scenes was great fun but also tough. We needed training and a few rehearsals before recording. During one replay of a battle scene, it was undiplomatically pointed out that my character had continued wailing loudly long after being decapitated. Clearly it was time to retire and progress to data governance instead. And the rest is history.[/glossary_exclude]
You may already have a formal Data Governance program in […]