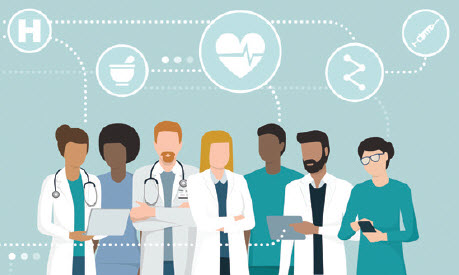 Six Strategies to Consider When Implementing IG
[glossary_exclude]These approaches can help hospitals to effectively implement IG
Assemble a multidisciplinary team. Make sure all disciplines — information technology, health information management, compliance, C-suite, legal, revenue cycle, risk management, quality, finance, security — are represented. Define everyone's role in managing information throughout its life cycle. Identify a senior champion who can help with buy-in and provide a financial perspective. Create a charter aligned with organizational goals and priorities. Is population health an issue you're trying to resolve? Patient engagement? Focus on what you want to accomplish and decide which issues to tackle, one at a time.
Assess the current information landscape. Take an inventory of existing policies, procedures and systems for capturing, processing, delivering and storing data. Get a handle on all data from different departments — accounting transactions, coding data, billing information, and operational and clinical data. Consider all entry and access points. Identify gaps, issues, new priorities. For instance, how are you incorporating patient-generated health information, information from other hospitals and other external information into your system?
Make the case for IG. Educate the entire organization on the role and mission of the team. Conduct in-service training using infographics, key performance indicators and real-life case studies of organizations that have initiated IG programs. Engage health information management along with clinical, financial and operational staff to show the importance of IG. In her book on information governance, Kloss profiles health care providers at various stages of IG implementation. This is an excellent guide for getting started and gaining support for IG.
Map your data. Ensuring data integrity through data mapping is essential. Work with IT, health information management and other departments to determine which data elements are being mapped. When various data elements are flowing from one system to another, you need to ensure that the information transferred has the same meaning and intent. Are data definitions consistent? How will you consolidate data from different systems and make sure they are accurate, complete and accessible? Look at your source data — where it flows, how it's handed off, how it's used. Consistency of data entry on the front end is critical to quality and integrity.
Apply guiding principles for creating an IG program. The 11 Sedona Principles for IG are an example of guiding principles. Collaborate with team members, particularly with health information management professionals who have the expertise to advance enterprise wide IG. As the stewards of health care information for decades, they understand the guiding principles and they're preparing to assume leadership roles. Invest in health information management training and development.
Invest in advanced technology. Acquire tools to ensure that information is accessible and useful — easily converted into actionable data for strategic initiatives. Invest in data analytics to capitalize on information, improve care and reduce costs. Clear and consistent accounting up front requires data analysis — it's part of IG. Health care executives need the ability to do business analysis in all care settings and all systems. However, technology alone is not enough — information governance practices are needed to realize the full value of technology. That means having the right people and processes in place along with the right tools to manage information on the front end and ensure reliable information on the back end.
[/glossary_exclude]
You may already have a formal Data Governance program in […]