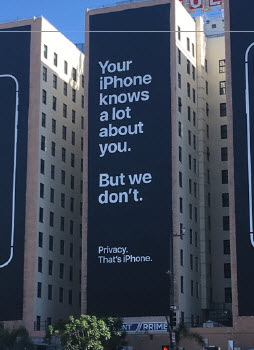 Privacy Concerns Hit Main Street America
[glossary_exclude]In previous issues,
IG World
has reported that, according to a Harris Poll published last November in
USA Today
, Americans are more concerned with privacy than anything else. That is, 65% of those polled stated they were more concerned about data privacy than healthcare (61%), which was their second greatest concern.
This may be the result of heightened awareness, due to the string of Facebook privacy missteps and scandals, along with the impact of the European Union General Data Protection Regulation (GDPR), which went into effect in May 2018. Also, the looming California Consumer Privacy Act (CCPA), which goes into effect on January 1, 2020 (and can be enforced after July 1, 2020). The CCPA is not as comprehensive or strict as GDPR, but will have a significant impact on companies doing business with California consumers, especially U.S. businesses.
In late July, I saw clear evidence of privacy concerns moving to Main Street USA. I took a train up the Pacific coast to downtown Los Angeles (DTLA) to attend the premiere of the latest Quentin Tarantino film, Once Upon A Time… in Hollywood, starring Leonardo DiCaprio and Brad Pitt. We went to the Alamo Drafthouse Cinema, which was showing a dozen films including the 35mm version of Hollywood. That was my first surprise of the visit: 19 bucks per person for movie tickets! I said, "That's the most I have ever paid for a movie ticket in my life!" and the young lady behind the counter replied, "Totally worth it!" I'll have to admit, it was a unique experience, and it was enjoyable.
You pay for a very comfortable padded reclining chair, and an audience that is quiet and respectful (you are warned several times during the previews to not talk or use your phone or risk being ejected), and to be able to order food and drinks during the movie. The film ran long (over two and a half hours), but it did not disappoint. The 35mm production had its flaws, with a skipped frame here and there, and some sound issues, but that made it seem all the more authentic and "old timey." I won't spoil it for you, but there were appearances by Steve McQueen, Sharon Tate, Roman Polanski, and the Playboy Mansion. The plot revolves around an aging star of old Westerns and his stunt double, and the Manson Murders, but with a fictionalized ending that is fantastic (and better than real life).
After the movie was over, there was another surprise—the entire audience stayed seated throughout the entire credits. I had never seen this happen, but I suppose in Tinseltown, there are a lot of film professionals and they pay attention to those details.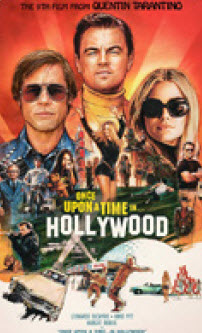 The biggest surprise, though, came the next day, when we were walking downtown to have breakfast at the storied Original Pantry Café (I highly recommend the biscuits!). There were three large buildings, painted with oversized Apple advertisements, and the middle one had a major message on privacy:
Your iPhone knows a lot about you. But we don't. Privacy. That's iPhone.
It's not flashy like Times Square, but you can't miss the ads. It is clear that Apple is targeting their competition, Alphabet/Google's Android, and trying to draw a distinction between Apple's approach, and their competition. Apple is using privacy as a significant competitive advantage, and they most certainly have conducted the market research to know that they are playing a strong suit when it comes to American's awakening privacy concerns.
And they reinforce this with their users. A couple of weeks later, I had to replace my iPhone, and as I was setting it up, this message displayed:
Apple believes privacy is a fundamental human right, so every Apple product is designed to minimize the collection and use of your data, use on-device processing whenever possible, and provide transparency and control over your information.
Compare that to Facebook: I personally have been keenly aware of the surveillance tactics and privacy affronts of Facebook, which caused me to leave the platform for good over 18 months ago. I didn't like their dishonest CEO, their manipulation of users, and their blatant disregard for user privacy. Do I miss some of the people I was able to stay in touch with on Facebook? Yes, a few, but those most important to me know how to get in touch. Do I miss having to spend large chunks of my time clicking and reading memes and wishing high school classmates, who I haven't seen in 40+ years, holiday and birthday wishes? No.
I gained even more insight into Facebook's amoral (or even immoral) stance on user privacy when I watched Hacked on Netflix, after I returned from L.A It's a documentary about the inside workings of the Cambridge Analytica scandal, and that company's eventual demise. There were a few revelations, like, if any ONE of your "Friends" on Facebook took one of those dumb personality tests or participated in other such ruses set up by Cambridge Analytica, then their data and the data of up to 500 of their "Friends" was collected, unknowingly and without consent, with up to 5,000 data points. Then those who were deemed as "convince-able" were bombarded with lies and misinformation to sway their vote in the 2016 U.S. Presidential election, and also, the Brexit vote. As we all know, Trump and Brexit were successful, but it was due in large part to the mass manipulation of trusting social media users.
In the future, perhaps users will be more aware of these schemes, and will have control of their own data and privacy. Our grandchildren may say, "Once upon a time… there was no data privacy."[/glossary_exclude]
You may already have a formal Data Governance program in […]