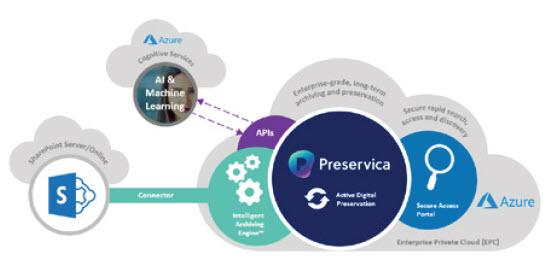 Preservica Announces Support for MS Azure Cloud
[glossary_exclude]Boston, MA and Oxford, UK: Preservica, a leader in active digital preservation software, has announced its Enterprise Private Cloud offering on the Microsoft Azure cloud platform. The combined solution enables Microsoft enterprise and government customers to protect and future-proof critical long-term data over decades in order to extract value, mitigate litigation and compliance risk and intelligently leverage knowledge for competitive advantage.
Preservica's Enterprise Private Cloud for Microsoft Azure is designed for organizations with strict regulatory, privacy and security requirements. It is fully managed by Preservica and can be deployed in a private Azure network with dedicated resources or on a customer's own Azure infrastructure.
The platform includes extensive APIs for integration with other content services platforms (CSPs), federated search and discovery, as well as leveraging Microsoft's AI and Machine Learning services for facial recognition, AV transcription, sentiment analysis, cognitive search and identification of sensitive data e.g. Personally Identifiable Information (PII) for GDPR compliance.
Preservica has also recently announced an automated archiving and digital preservation offering for enterprise-scale Microsoft SharePoint environments. The new intelligent SharePoint connector enables customers to automatically transfer critical long-term records and content from Microsoft SharePoint sites across the enterprise to the Preservica active digital preservation platform based on user defined fields. This enables organizations to streamline the governance of critical long-term content, drive greater cost efficiency and ensure compliance.
Studies by the IGI and AIIM show that every major organization has a large and diverse array of critical digital data that needs to be kept for decades or permanently in order to mitigate risk, meet compliance and extract value. Digital transformation and application decommissioning initiatives are driving further exponential growth in long-term digital content. Preservica's OAIS (ISO 14721) conforming active digital preservation platform uniquely future-proofs all types of digital information against technology obsolescence ensuring valuable digital assets remain accessible and trustworthy over decades.[/glossary_exclude]
You may already have a formal Data Governance program in […]