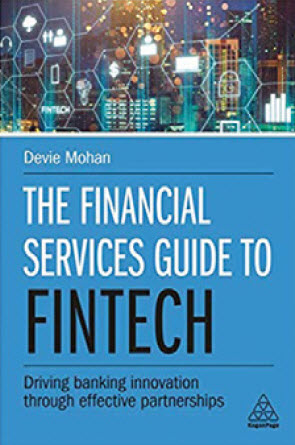 New Fintech Book by Devie Mohan
[glossary_exclude]Fintech has emerged as one of the fastest growing sectors in the financial services industry and has radically disrupted traditional banking. However, it has become clear that for both to thrive, the culture between fintech and incumbent firms must change from one of competition to collaboration.
The Financial Services Guide to Fintech
looks at this trend in detail, using case studies of successful partnerships to show how banks and fintech organizations can work together to innovate faster and increase profitability.
Written by Devie Mohan, an experienced fintech advisor and influencer, this book explains the fundamental concepts of this exciting space and the key segments to have emerged, including regtech, roboadvisory, blockchain and personal finance management. It looks at the successes and failures of bank-fintech collaboration, focusing on technologies and start-ups that are highly relevant to banks' product and business areas such as cash management, compliance and tax. With international coverage of key markets, The Financial Services Guide to Fintech offers practical guidance, use cases and business models for banks and financial services firms to use when working with fintech companies.[/glossary_exclude]
You may already have a formal Data Governance program in […]