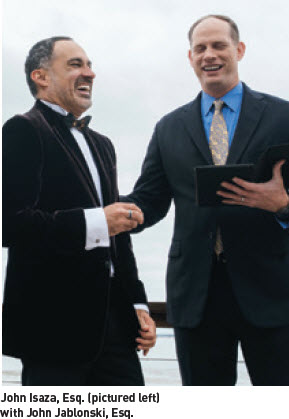 Law and Order: an Interview with John Isaza
[glossary_exclude]John Isaza, Esq., FAI heads the Information Governance & Records Management practice at Rimon Law Firm in Orange County, California, and is CEO and Co-founder of Information Governance Solutions LLC. Mr. Isaza is internationally recognized in the fields of IG, as well as RIM. He is one of the country's foremost experts on RIM issues, electronic discovery, and legal holds. He has developed IG and records retention programs for some of the most highly-regulated Fortune 100 companies, including related regulatory research opinions. His clients range from the Fortune 100 to startups.
Mr. Isaza is also an expert in social media law. He is the current chair of the ABA's Social Media Law Subcommittee of the Business Law Section of the American Bar Association. In this capacity he is a contributing author and Editor of the book, A Handbook on Global Social Media Law for the Business Lawyer, published by the ABA. Mr. Isaza is a frequent lecturer on the issue, and he advises clients on the difficult issues in navigating a social media presence.
Prior to joining Rimon, Mr. Isaza was co-founder and Partner of Howett Isaza Law Group, a boutique law firm specializing in corporate compliance matters, complex business, real estate, construction, employment and environmental litigation. Immediately prior to that, he served as in-house General Counsel to a publicly traded medical device manufacturer, now owned by Abbott Laboratories. Mr. Isaza rounds out his previous experience with over a decade as a trial lawyer specializing in business, environmental contamination, products liability and construction defects. During that time, he served as Arbitrator for the Los Angeles Superior Court. Mr. Isaza attended Boston College Law School, where he served as Editor of the International Law Review. In 1989, he served as Judicial Extern in the United States District Court of Massachusetts, Honorable David S. Nelson.
Mr. Isaza is a highly sought-after speaker in the ARMA, AIIM, ABA, American Bankers and IT compliance circuits. Mr. Isaza serves on various committees of the ABA, including the Cyberspace Law Committee and the E-Discovery and Digital Evidence Committee; he is a contributing author to the ABA's Internet Law 2nd Edition, as well as ARMA's GARP® Metrics & Audit Guide; he is past President of the Greater Los Angeles ARMA Chapter and of the Hispanic Bar Association of Orange County; he served on the Board of Directors of ARMA International, the Orange County Bar Association, and he currently serves on the Board of Orange County's Public Law Center. Mr. Isaza co-authored a book entitled, 7 Steps for Legal Holds of ESI & Other Documents released in July 2009 and was a contributing author in 2012 to the ABA's Internet Law for Business Lawyers, 2nd Edition. He is the 2008 recipient of ARMA's prestigious Britt Literary Award, and his writings have been featured in The American Lawyer's Law.com. In 2011, Mr. Isaza was named the 45th Fellow of ARMA International (the "FAI" designation after his name) – the highest honor bestowed by the professional association of records and information managers.  We spoke with John at his Laguna Beach home:
IG World: Where did you grow up? Go to school?
JI: I grew up all over the place – Colombia where I was born, Puerto Rico where I attended elementary school, and the U.S., mainly in Miami Beach, Florida through my teen years into adulthood. From Miami Beach High, I attended the University of Florida, and then Boston College for law school.
What are some of your favorite childhood memories?
Most of my childhood memories are from my years living in Miami Beach. I was always so proud to have a job, from working as a shoe shine boy to working as a valet at a hotel, and even as a water ski instructor for three summers my freshman through junior years in high school. When not working, I enjoyed after school activities with my friends playing football and riding our bikes for hours at a time with no destination in mind. What a treat to be doing something without a destination or goal in mind.
As a side note, and at the risk of sounding like a total geek, I really enjoyed my years in the Speech and Debate Team from high school through college. I was not a naturally gifted speaker by any stretch, but while enjoying it I picked up a tip or two on how to engage an audience.
When you combine AI to identify the requirements of what you absolutely have to keep on file, I honestly feel that we are closer than ever to that elusive silver bullet to automate data retention.
What sparked your interest in the law?
I wish I could say it was from watching episodes of Perry Mason or reading To Kill a Mockingbird. The truth is I was an immigrant, and I wanted to take full advantage of the opportunities this great adoptive country of mine had to offer. So, it was either law school or medical school, and frankly I was not smart enough for medical school. That said, once I entered law school, I found a community that was really keen on making the world a better place. I learned in law school that you can do a lot of good with the skill set we were privileged to receive from the training.
What influenced your decision to co-found your software company, Information Governance Solutions?
After law school, I found myself shackled into a miserable existence as a trial lawyer. I hated having to get up every morning to gear up for a fight. That was just not my personality. After my 10-year stint as a litigator, I found a new passion helping major corporations build defensible IG programs, but the research and retention schedule process was cumbersome, inefficient and very expensive. We needed a better way. I thought if RIM had the tools to build and maintain a records retention program, any company could be confident their schedule would be defensible, cost-effective, and scaled to their size and complexity. This is when I got together with my co-founder, Todd Cawthron, to build a modern and efficient approach to the process. Although I did not take the traditional route to doing good with my law training such as going into politics or working for a non-profit, I found that creating a software company allows me to work with people whose company I enjoy while allowing us to solve problems in the RIM profession. I take a lot of pride in keeping people employed while treating each and every employee as a partner in our journey.
What are IGS' key competitive advantages you offer customers?
Our flagship product is VIRGO, a software-as-a-service for managing retention schedules and global IG requirements, including not only retention but privacy, location, format, storage, language and statutes of limitations. We stand out from the rest primarily because of our depth across all industries and across over 200 global jurisdictions. No other product on the market has that kind of reach. Second, we are currently the only product on the market that integrates into O365 and we are getting ready to roll out our first integration into OpenText. This functionality is a game changer for our customers.
What changes do you see coming in the RIM and IG space over the next 5-10 years?
I foresee new opportunities from the use of artificial intelligence (AI). With Virgo, for instance, we are working to leverage the use of AI to not only procure the research needed to support IG programs, but also to help automate other spokes of the IG wheel. When you combine AI to identify the requirements of what you absolutely have to keep on file, I honestly feel that we are closer than ever to that elusive silver bullet to automate data retention.
We hear you are close friends with attorney John Jablonski, who was your co-author for a book on legal holds. You two live on opposite ends of the country. Can you tell us how your friendship developed?
Oh yes. John and I met at an ARMA Conference in 2007. We had a mutual interest in legal holds. As you may recall, legal holds were all the rage after the initial passage of the Revised Federal Rules of Civil Procedure in 2006. Unfortunately, the law came with little guidance and the case law was all over the place. We set out to invent an easy approach to legal holds, which resulted in, 7 Steps for Legal Holds of ESI and Other Documents, published in 2009. During the process, we became good friends, to the point where John asked me to officiate his wedding and then he returned the favor by officiating mine in 2015. John has an incredible work ethic, and I really respect that.
If you could have dinner with three people, living or dead who would you choose, and why?
For some reason this is the hardest question to answer, as I love to devour history books. Thankfully, many biographies have given me insight into the minds of many of the leaders I respect. However, there are a couple who remain an enigma. For instance, Jesus Christ has been chronicled by many, but I would love to get his views on human foibles from him as a flawed human and not as a saint. From ancient times to the Renaissance, I would also love to speak to Leonardo DaVinci just to see how the mind of such a talented man in the sciences and arts works. Finally, from more recent times, I would love to sit down for a chat with Steve Jobs, as he may go down in history as having similar impact to DaVinci and I would be curious to learn how he tapped into his instincts without being shackled with current norms.
What is your favorite sports team and why?
I bleed Orange and Blue for the University of Florida Gators. You asked earlier about fond memories from my youth, and those days watching the Gators on the football field, basketball court, track, pool, or even the gymnastics floor are truly a happy place for me. Go Gators!
What hobby or special talent do you have that might surprise your colleagues?
I came close to moving to Broadway to pursue a career in singing. I even had a talent agent. However, I got cold feet, as I had too many student loans to pay. Regrettably, during a surgery a few years back my vocal cords were damaged so I cannot hit the high notes (or many notes for that matter) that I used to hit with ease.
What do you like most about living in SoCal? Least?
It is hard to argue with the gorgeous weather, and the scenery in Laguna Beach where I live is truly paradise. That said, the price for paradise is sharing it with the millions of others who want to enjoy it as well, so traffic is horrible. I truly despise traffic, so I work from home to avoid getting on those congested roads. Been there, done that.  [/glossary_exclude]
You may already have a formal Data Governance program in […]