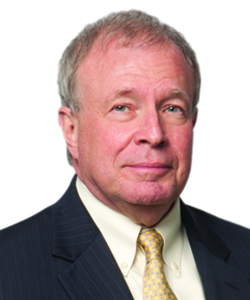 Interview eDiscovery Expert Ron Hedges
[glossary_exclude] The Honorable Ronald Hedges is a former U.S. federal judge, and member of the Litigation and Dispute Resolution practice group at Denton's, the world's largest law firm. He has extensive experience in e-discovery and in the management of complex litigation and has served as a special master, arbitrator and mediator. He also consults on management and discovery of electronically stored information ("ESI").
Where did you grow up? Go to school?
I grew up in Hackensack, New Jersey, where, it turns out, I now live in the family home built in the 1920s (more or less). My undergraduate education was at the University of Maryland in College Park. I then attended Georgetown University Law Center.
When did you first develop an interest in the law? What attracted you?
My aunt was a legal secretary. She worked for various judges in the Bergen County Courthouse about one mile from where I grew up. I was very close to her and my "growing up" included a lot of time in that courthouse. So, I was in the company of judges and attorneys from an early age. That got me started "in" the law. Plus, I took some hard science courses in high school. That experience convinced my "the law" was for me.
How and when did you get involved in the e-discovery side of the law business?
I went on the federal bench in 1986 as a USMJ sitting in Newark. I saw disputes involving ESI over the years, but I "hit" the e-discovery world when I imposed sanctions on a company for spoliation of ESI. Richard Braman of The Sedona Conference and I connected, I joined Sedona, and the rest is history. That history includes me having written guides for judges published by Sedona and the Federal Judicial Center. I've also written a number of ESI-related (and other) articles for other organizations, including the ABA and Bloomberg.
What major trends do you see influencing e-discovery now, and over the next 5 years?
Major trends? First and foremost, and this goes beyond e-discovery into electronic information as well as ESI, there is and will be continued emphasis on privacy and security. This is being driven by, among other things, legislation such as the GDPR and the California Consumer Privacy Act as well developments in the common law (perhaps most recently a decision out of the Pennsylvania Supreme Court). Then throw in the ethical obligations of competence and confidentiality. We need to grapple with privacy and security as litigators and, more generally, as attorneys.
Beyond this, I think that we, as a profession, need to become more familiar with the "use" of ESI in both civil and criminal proceedings. ESI is ubiquitous. It grows exponentially in volume and variety. Certainly, there are a number of attorneys who can handle ESI. However, my experience has been that there are a number of attorneys who cannot. And I expect that, as we are confronted with new sources of ESI, the learning curve will become steeper.
You were a federal judge in New Jersey. Why did you decide to get back into advising clients and focusing on e-discovery and IG issues?
I sat on the bench in New Jersey for 21 years. Frankly, it just became the time for me to move on to other things. I've counselled on ESI and IG issues but, given my background, I've been able to counsel beyond those topics and address litigation management.
What impact have you seen the EU GDPR legislation making on U.S. clients?
I believe that the biggest impact of GDPR has been to raise the level of awareness of privacy-related concerns among American businesses. Of course, GDPR will impact any business that is subject to GDPR and the question will become, for any such business, whether GDPR compliance become the baseline that affected businesses will build their policies on. However, I also believe that the more immediate concern for American businesses may be the CCPA. Granted, it will not go into effect until 2020—and I expect we will see more amendments to that law—but the CCPR will have nationwide implications. And then, we have the panoply of state laws on data privacy and security, as well as possible federal legislation. Suffice it to say that we are living in interesting times!
IG has had a rather slow awakening in the United States. Do you see that changing? What forces or influences are impacting that shift?
IG is nothing new, albeit we are beyond what used to be "records management." In my opinion, IG is "awakening" because of the need to deal with ever-increasing volumes and varieties of electronic information (stored or in transit) that entities, both public and private, process and use on a daily basis. "Governance" is the only way to address this information. Plus, we have regulatory regimes in effect, sectoral in nature in the Nation (think of HIPAA as an example), although that may change to some degree if federal legislation comes to pass, that emphasizes the need for IG. Moreover, the 2015 amendment of Federal Rule of Civil Procedure 37(e), which introduced the idea of "reasonable steps" as a means to impose sanctions, emphasized the need for IG.
What is one talent of hobby do you have that might surprise your colleagues in the legal profession?
I like to read.
What do you like most about New Jersey? What is your favorite lunch spot and why?
So many great places; although, I must confess that I'm not a lunch type. I prefer dinners with friends. One of my favorites is Spanish Tavern in Newark.
What do you like best about our new magazine?
Short and to-the-point articles. Great graphics!
RON HEDGES IS A MEMBER OF THE LITIGATION AND DISPUTE RESOLUTION PRACTICE GROUP AT DENTONS THE WORLD'S LARGEST LAW FIRM. HE HAS EXTENSIVE EXPERIENCE IN E-DISCOVERY AND IN THE MANAGEMENT OF COMPLEX LITIGATION AND HAS SERVED AS A SPECIAL MASTER, ARBITRATOR AND MEDIATOR. HE ALSO CONSULTS ON MANAGEMENT AND DISCOVERY OF ELECTRONICALLY STORED INFORMATION ("ESI"). HE CAN BE REACHED AT [email protected][/glossary_exclude]
You may already have a formal Data Governance program in […]