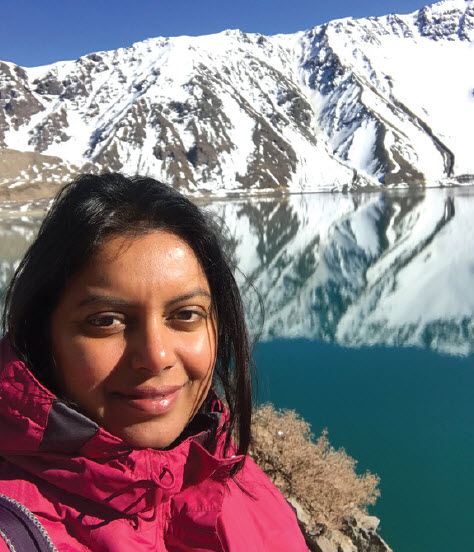 Interview with Devie Mohan – FinTech Leader
Fintech from Across the Pond
Devie is a fintech marketing strategy and research professional with years of experience. She has worked in strategy, marketing, and analysis roles in firms like Goldman Sachs, Thomson Reuters, Ericsson, IBM, USAID, and SunTec. She is a consultant and researcher for several fintech startups, banking innovation groups, and investors with a keen understanding of the trends and activities of startups, banks, and investors in the space.
Devie has a good understanding of the international financial and technological markets, having grown up in India and lived in global financial centers like London, Stockholm, Washington DC, New York, and Mumbai.
Having travelled to over 50 countries and worked with teams in over 47 countries, she understands and analyzes regional technology trends and market developments. With a computer engineering background, she is also passionate about inspiring young women to find success in technical fields.
IG World: Where did you grow up? Go to school?
I grew up and studied in a town in southern India (small by Indian standards, but still has around 900,000 people) called Trivandrum. It is very much a coastal town with lovely beaches, lots of tourists and a laid-back culture. I then went on to do management programs in the U.S., Switzerland, China, and the UK.
What did you study at university, and was your favorite university course?
I studied computer engineering when it was still a relatively new career path in the 90s. Computer programming is very much on trend as a career now, but back then, it was quite exploratory and an adventure, trying out how to program everything from microprocessors to websites, but without the help and support of high-speed internet! We had some wonderful teachers on the course who guided us through this exploratory world and told us about the highly innovative things being built around the world. I especially loved a subject called Logic Circuits Design.
What is your idea of a perfect day?
My idea of a perfect day is one where I get to do all my favorite things—work on a very interesting project (usually at Burnmark), spend time with family, and eat good food. Ideally, by the sea.
What prompted your interest in the fintech industry?
I studied technology for my degree, but studied Finance, Marketing, and Strategy for my MBA. I had worked with both technology firms (IBM, Ericsson, etc.), finance firms (Goldman Sachs, Thomson Reuters, etc.), and fintech was a great way to merge all my knowledge and experience accumulated in both industries. I got into the industry by writing and blogging and moved on to advise startups and banks on how to survive, compete, and collaborate in the fintech world.
How has fintech changed in the last decade? What are the most exciting or promising changes or trends?
I feel nostalgic about this sometimes—in the early days of fintech, my days were filled with observation and learning. I have met, or spoken to, most of the startups launched in the early 2010s and had a very good eye for future success. I could predict the future trends of fintech and technologies in my sleep.
However, the data and the truth are now more murky due to a lot of money spent on PR by fintechs as well as banks, and the sheer number of startups. I launched Burnmark to create a system to address this. We spend hours analyzing data and looking at what startups are doing to address the reality of the fintech world. The fintech industry cannot purely be measured by numbers though, the personal stories and innovations coming out of unexpected sources are equally important to capture.
What has been the impact of GDPR on the fintech industry?
I think it's great that more regulations are focusing on the general public's desire for privacy and security, and having ownership of their own data. It's been expensive for the industry, but essential to get done.
What advice do you have for those trying to innovate in the fintech segment?
Be authentic. Don't go by what others have done in the past, and where multi-million funding rounds have been raised, but find your own area of the market where you can excel. The money will follow.
"I spent 20 years learning various styles of Indian classical dancing. I could dance on a brass plate with a pot balanced on my head!"
If you could have dinner with living people, who would they be, and why would you choose them?
Queen Elizabeth II (one of the women I admire the most, someone who's offered stability to this country more than anyone else); Michael Schumacher (someone I've admired for decades); Phoebe Waller-Bridge (who I think is the best contemporary writer we have).
What special skill or hobby to you have that might surprise your colleagues?
I spent 20 years learning various styles of Indian classical dancing. I could dance on a brass plate with a pot balanced on my head!
What do you like most about living in London? What is your favorite London lunch or dinner place, and why?
I have been to 52 countries, but nothing compares to living in London! I have been here for 15 years now, but I still discover new neighborhoods and streets and food joints almost every week. You can walk into a new part of London and feel like you have arrived in another country. It's unexpected. It's gorgeous.
I have too many favorite places to count! My current lunch favorite is the Waiting Room in Deptford for vegan food. My dinner favorite, though clichéd, is Dishoom.
You may already have a formal Data Governance program in […]