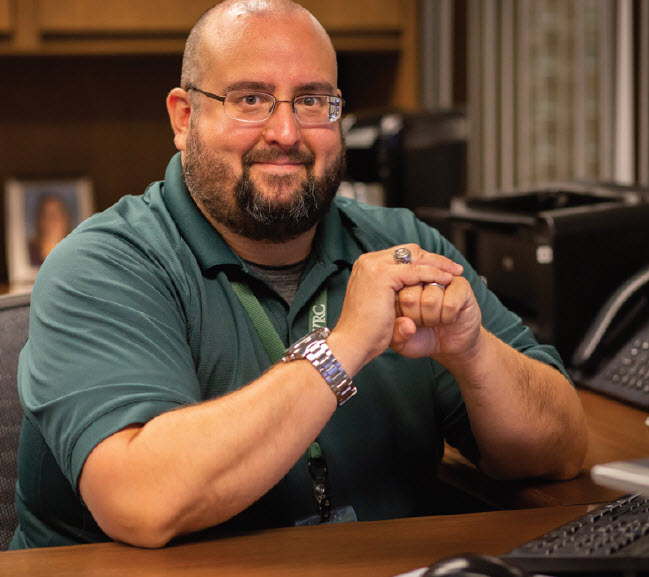 Interview with Andrew Ysasi
Andrew Ysasi has over 20 years of professional experience in records management, including sales, IT, and management roles, leading to ten years of executive management at Kent Records Management, which was acquired earlier this year by Vital Records Control (VRC). He is passionate about helping people and organizations succeed and thrive through mentoring, team development, transparency, hard work, and setting achievable goals. Andrew has the rare ability to explain technical and business matters clearly, while communicating on a personal level, which has elevated him to executive leadership positions in various organizations and associations, and allowed him to conduct business globally. Andrew is a subject matter expert, writer, sought after speaker, and past university instructor.
As Vice President of Advocacy at VRC, he is tasked with mentoring, educating, volunteering, and advocating for all matters related to records management and information governance (IG). Andrew and is currently the President of IG GURU® an IG news organization to ensure relevant IG news is shared with the IG community. He is also a guest host on the Inside the Records Room podcast, serves on the i-SIGMA (NAID/PRISM) board, is a contributor to ARMA's IGBOK, and former Regent for the ICRM. Andrew also owns Admovio, a career coaching business, and his resume makeover work is featured on CIO.com.
Andrew holds certifications in IG, project management, information security, information privacy, and records management. Andrew is also a Fellow of Information Privacy with the International Association of Privacy Professionals (IAPP). Andrew has a bachelor's degree in information technology, a master's degree in administration, and has completed coursework towards a doctorate in strategic leadership.
We caught up with Andrew near his home in Grand Rapids, Michigan.
 IGW: Where did you grow up and begin your career?
AY: I grew up in Grand Rapids, Michigan, USA. Grand Rapids grew up as a furniture town and is now home to breweries, universities, research, and tech companies. The Greater Grand Rapids area is home to about a million residents—Chicago and Detroit are about three-hour drives, and I have been known to make it to Toronto, Canada in six hours!
What is your heritage and family background?
My ancestors immigrated from Spain, Mexico, Ireland, and Germany in the 1800s and early 1900s. Hard work is in my blood and my parents sent my siblings and me to private schools to prepare us for college Soon after high school, in the late 1990s, I got a job at a computer store and studied computers in college. My career began as a computer repair technician.
What experiences did you have early on as an IT person? And what changes in technology and IG have you seen?
Early on, I had the pleasure of working with some smart people who weren't afraid to be called geeks! And I also learned how to deal with customers. The geeks were into cybersecurity, and they quickly fixed computers and networks to pass the time as they honed their security skills. I'll never forget how passionate they were about technology, and that passion infected me. My boss at my first job and second job were both entrepreneurs, so I learned that we had to work hard to make money and our work mattered to keep clients happy. Also, it felt rewarding fixing issues they had with their computers to get them back up and running. I found that I liked customizing and building personal computers for customers. That business changed quickly when Gateway and Dell came onto the scene. Now and then, I still take a look at how people are customizing their personal computers.
I've seen a lot of changes in technology, and I still remember the big Y2K scare as the year 2000 approached. I remember testing systems to ensure they were Y2K compliant, but I digress…. From decentralization to the cloud, mobile technology, AI, IoT, cryptocurrency, and cybersecurity it is a very different landscape than a simple client-server network I grew with. In the early 2000's I had my first exposure to document management systems, eventually Microsoft SharePoint. Most of these applications are cloud-based now although the concept of creating, using, and retaining documents is relatively similar.
What has also changed are the governance models and regulations. IT and IG governance models evolved to help organization address and mitigate fines and loss of consumer faith related to data protection and privacy laws. Cybersecurity continues to be a big issue and has evolved since I read The Cuckoo's Egg by Cliff Stoll nearly 15 years ago. Cliff was an astronomer who tracked down a hacker while he worked at the Lawrence Berkeley Lab. I firmly believe cybercrime will continue to be a significant issue to humanity throughout the 21st century.
What led you into the world of Information Governance?
I was selling and implementing document management software in the mid-2000s and came across a company that did backfile scanning which partnered with the company I worked with on several projects. We continued to build a relationship, and they approached me for a job to help them run their imaging department and sell their services. I was hired in 2007 by Kent Records Management, Inc. and their leadership team encouraged me to learn as much as I could about records management and eventually IG. The reasons were to: 1) ensure we were keeping up with best practices; and, 2) be a resource for our clients to answer questions they had related to records management and IG. I became a director shortly after being hired and eventually worked my way to Executive Director and Vice President. I spent over ten years at Kent Records, and it was a great experience, and I got to work with some great people. When Kent Records was acquired by Vital Records Control (VRC) late last year, I acted as the area VP for a few months until I had a conversation with the CEO, Danny Palo. He shared his vision for my role. I quickly learned Danny and VRC are serious about the IG community and their clients. We chose the title VP of Advocacy.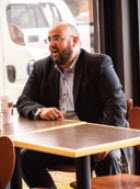 I'm blessed to be able to mentor people for certifications, specifically the Certified Record Analyst (CRA) and Certified Records Managers (CRM) exams. I also frequently travel around the US conducting IG presentations to local ARMA chapters, at ARMA international, other associations, and universities.
What led you to start the IG GURU website?
I was at an interesting point in my career early 2018. I was swamped at Kent Records, and my kids were getting older, so they were becoming more active in school, sports, and college.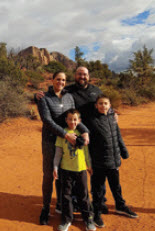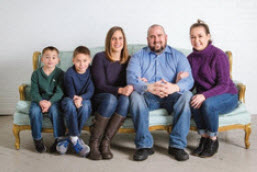 I began keeping articles and news on a website to read later. If I found something interesting, I would share it with a small group of people. As time went on, I realized I had a business model, created a strategy, found some awesome sponsors, and slowly built a community. I then worked with Peter Kurilecz and Mark Wolfe to migrate the RIM Listserv community over to IG GURU. It took time, but we did it, so I'm happy to host the water cooler of the RIM/IG industry through IG GURU. It is convenient to go to one site to find news and what is happening in the IG community across the globe.
What are some significant challenges to governing emerging technologies?
There are many challenges with emerging technologies. I'll highlight the ones that I feel are most important, such as cybersecurity, lack of talent, and increasing privacy regulation.
Cybersecurity continues to be a major topic due to malware, data breaches, and coordinated cyber-attacks. After we saw CEOs lose their jobs due to data breaches, cybersecurity is now a mandatory matter board of directors and executives must address. More still needs to be done, but I fear that bad guys are outnumbering the good guys, and most organizations find themselves chasing the next threat before they can get their arms around the previous one. If we are continually chasing down threats, it may be difficult to direct resources to IG efforts, when in fact maybe the best way to reduce overall risk.
A lack of technical talent is an issue. Studies by the US government have shown there aren't enough IT professionals to go around. Further, if immigration laws strengthen, it will be harder to bring in talent from other countries to help fill the need. We certainly need more cybersecurity training programs in the US.
Another trend, a positive one, is increasing privacy regulation. This is good for consumers, but puts burdens on developers and technology companies to bake in privacy considerations. As privacy laws pop up by country, state, and region, it will be a challenge for technology companies to adapt and implement changes into their software and technology. Like cybersecurity, taking away or investing in resources to address privacy matters may either support and overall IG initiative, or bog it down, pulling it too far in one direction.
Tell us about your passion for career development and why you are such an ardent supporter?
Shortly after graduate school, I started teaching the technology capstone course at Davenport University. After three years of teaching, I began Admovio in 2014 and focused on resume makeovers and career coaching. My resume work is featured on CIO.com, and what is most empowering is the individual gets exposure like they never did before with a new resume that truly showcases their abilities. Seeing someone in IT or any profession take the next step in their career, and knowing I had a little part in that is truly rewarding. Organizations often struggle to find the right person for a job, and if I can help make that connection easier, I'm all for it. I enjoy being positive influence while a person is unemployed or looking to move to a different environment.
You may already have a formal Data Governance program in […]