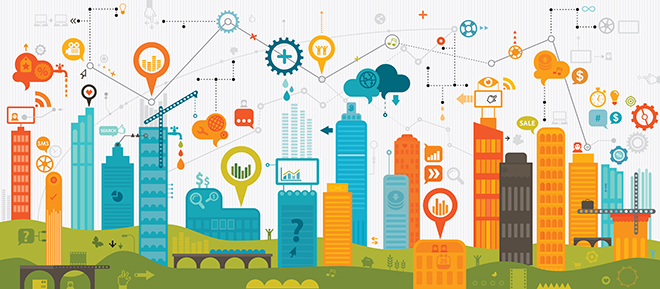 InfoGov & Digital Transformation for Local & State Government
[glossary_exclude]The trend toward
digital transformation
has been embraced as a way to improve efficiencies and satisfy both government worker and citizen expectations.
Information Governance
is the approach can coordinate efforts and drive efficiencies promised through digital transformation for both the government workforce and citizens.
INFORMATION GOVERNANCE
The task of governing data and information is becoming increasingly difficult. IDC predicts the global datasphere will grow from 33 zettabytes in 2018 to 175 by 2025. (1) The challenges presented by the volume of data is compounded by the myriad of data formats as well as devices and systems used to create and store it. In 2012, a Forbes contributor used the term digital hydra to describe the multiple ways in which digital data is created, a term more appropriate today than ever (see Figure 1).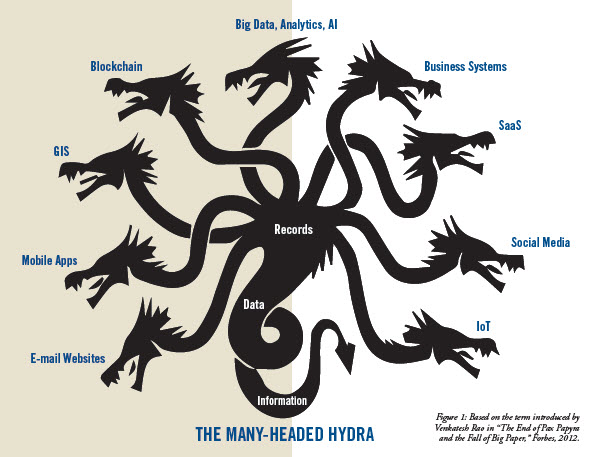 What was once the responsibility of the records and information manager has now, of necessity, become a team project. The Information Governance Reference Model emphasizes collaboration among key stakeholders including business users, IT, legal, privacy, cybersecurity, risk, and regulatory departments at a minimum. (2)
Teams involved in digital transformation initiatives must not only ask, "How can technology be utilized to improve our existing process?" but also, "How can our existing processes be transformed to make the most of our technology investments?" The answer to this last question promises to bring the most transformative experiences.
STATE AND LOCAL GOVERNMENT CONTEXT
"The term digital transformation refers to the evolution of business activities, workflows, and processes to leverage the latest trends in digital technology and the impact such innovations are having on society." (3)  Unfortunately, digital transformation below the federal level in the U.S. is restrained by a complex governmental structure: 50 states and 19,000 cities, towns and villages, each with some level of decision-making when it comes to enacting governing legislation. (4)  This means that while it is unlikely that a strategy employed by one entity and replicated "as is" by another will be successful, state and local governments have common goals and can learn from one another.
EXAMPLES OF STATE & LOCAL GOVERNMENT DIGITAL TRANSFORMATION
Here are some prime examples of activities and technologies state and local governments employ to maximize the value of their information while minimizing associated risks and costs.
Real-Time GIS to Manage Tours & Equine Waste
 Challenge: Over 41,000 horse-drawn carriage tours were conducted in in the City of Charleston, South Carolina, in 2018 alone. While popular with tourists, equine urine smells generated complaints by citizens and business owners. A city ordinance on diapering and sanitation communication requires every animal-drawn vehicle be equipped with a two-way communication system, a GPS unit, and digital flags to be dropped to identify areas in need of sanitation. (5) According to one estimate, only 25% of such incidences were reported.
Solution: A real-time GIS system called Carriage Alerts Mapping Platform (CAMP) now provides drivers with one-click GPS devices to report locations in real-time. An Esri GeoEvent Server processes locations and generates notifications to the sanitation crew, and an operations dashboard allows monitoring and managing of the required workflows.
Results: Improved sanitation crew and carriage operator communications and reduced sanitation response times. (6)
Creating a Modern Interface to Legacy Assessment information
 Challenge: The Assessor's Office of the County of Los Angeles provides assessment information for over 2.4 million properties. The Office planned an Assessment Modernization Project (AMP) to replace a legacy system built on 1970s mainframe technology. Because it would take approximately eight years to complete, the department decided to enhance its legacy system, demonstrate project management and agile software development competency, and begin the change management process the new system would require.
Solution: The Assessor's Portal, displays data originating in the legacy system through a new interface. GIS and mapping functionality are provided by ESRI, Google, and EagleView/Pictometry JavaScript APIs. The Portal integrates with the Department's document management and file scanning initiative (which digitized 2.4 million parcel files containing approximately 10 million pieces of paper).
 Results: The Assessor Portal, completed in nine months, is shared with all other County Departments, including the Registrar Recorder for deeds, Public Works for building plans and permits, and the Tax Collector for payment and delinquency information. (7) A lightly redacted version of the Portal is available for the public (see Figure 2).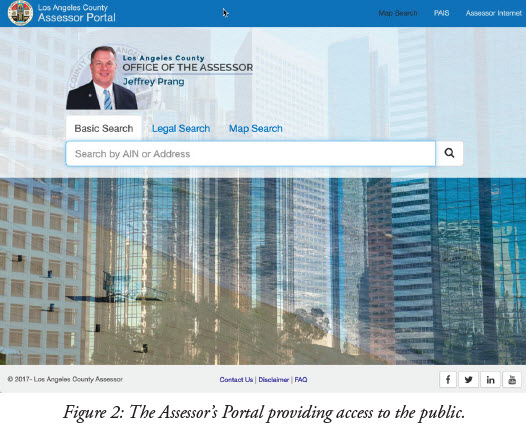 Increasing Voter Participation through blockchain-based e-voting
 Challenge: Only 18% of West Virginia's 2 million military service members and their families reported receiving ballots in 2016; 11% were counted due to rejections and tardy ballots. The State's elections director believed blockchain technology could increase overseas voter participation. (8)
Solution: The first instance of remote blockchain voting in the US was announced by the Secretary of State Mac Warner in 2018. During the 2018 midterm elections, 144 military personnel stationed overseas in 24 countries were able to cast their ballots using a mobile, blockchain-based platform called Voatz. Although not seen as a solution for mainstream voting by Warner, it could be a vehicle to increase participation by service members and their families stationed overseas.
Results: The 2018 pilot was considered a success. West Virginia will allow blockchain voting for service members stationed outside of the country in the 2020 presidential elections.
Bouncing Back from Ransomware: taking a Disaster Recovery Approach
Challenge: In February 2018, the Colorado Department of Transportation (CDOT) suffered a SamSam ransomware attack that encrypted nearly 2,000 computers, servers and network devices. Fortunately, transportation operations were not impacted, but finance and payroll operations were.
Solution: A coordinated approach to recovering from the attack was initiated by then-Gov. John Hickenlooper, who declared a statewide emergency, enabling officials to seek assistance from the National Guard and other states. Kevin Klein, Colorado's Director of Homeland Security and Emergency Management, was brought in to coordinate emergency operations.
Results: The state of Colorado spent about $1.5 million to recover from the incident, but the approach proved effective. About 80 percent of CDOT's systems were recovered within a month of the initial attack. Since then, other governments hit by ransomware attacks have issued disaster declarations and many are conducting simulated cyberattacks along with natural disaster drills. (9)
5.Connecting with Citizens through Social Media
 Challenge: The Los Angeles police department's social media goal is to protect and improve the overall reputation of the police department. In July of 2018, a Los Angeles police officer shot and killed a Trader Joe's employee during an exchange of gunfire with an attempted murder suspect. Social media users were quick to jump to conclusions based on insufficient information.
 Solution: The LAPD's social media team, tracking negative sentiment in real time, urged leaders to release body camera footage to citizens. Overturning a policy that could take more than a month to release this type of video, leaders released the video to the press and had it posted on social media within 48 hours.
Results: This proactive approach kept constituents informed and the police department's reputation intact. (10)
DISCUSSION/CONCLUSION
The examples of digital transformation provided illustrate how local and state governments are adopting the latest trends in technology to meet their needs while modifying business activities, workflows and processes to better take advantage of those innovations.
Information Governance, defined as "the activities and technologies that organizations employ to maximize the value of their information while minimizing associated risks and costs," can provide a foundation for digital transformation for government at the state and local levels. (11)[/glossary_exclude]
You may already have a formal Data Governance program in […]