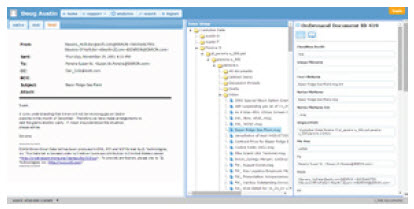 CloudNine Expands in eDiscovery Market
[glossary_exclude]CloudNine®, a leader in the eDiscovery software marketplace, is expanding in the legal technology market, continuing to advance capabilities across its software portfolio as well as to grow sales and integration partnerships.  At ILTACON 2019 in Orlando in August, CloudNine's new CEO Tony Caputo and his team demonstrated new features and performance upgrades to CloudNine's eDiscovery technology suite including CloudNine Explore™, LAW™, Concordance® and Review™.
Highlights of ILTACON 2019 announcements include:
CloudNine Explore 7.2 – Explore, an early case assessment solution, is now faster, more flexible and scalable for larger projects due to unique multi-core, multi-threaded processing capability across several machines. Explore 7.2 also connects more seamlessly with CloudNine LAW pre-discovery production software to enable greater organization and data export options.
CloudNine LAW 7.2 – LAW now includes more powerful controls for organizing data. The popular Turbo Import feature is enhanced by flexible workflows and new Import Set reporting features. Turbo Import in LAW 7.2 now imports and analyzes data 73% faster than LAW 7.0.
CloudNine Concordance Desktop 1.07 – Import speeds are now 70% faster with Concordance 1.07. The new version also adds administrator tools, improves document and email text extraction, and provides new organization and management functionality to optimize both database and unstructured data. New viewer and redaction capabilities were showcased at ILTACON.
CloudNine Review 2019 – The Review platform has been completely modernized to improve speed, performance and user experience. New Family Tagging and Field Grouping also were released and shown at ILTACON.
Office 365 Connector – CloudNine also be unveiled a new application at ILTACON which will be released later this year that extracts data from Office 365 and automatically loads it into CloudNine Explore.
About CloudNine Discovery – Founded in 2002 and based in Houston, CloudNine (www.cloudnine.com) is a technology company with expertise in simplifying the data discovery process. Through its on and off-premise software brands, the company helps its more than 1,000 legal and corporate customers, gain insight and intelligence on electronic data.
[/glossary_exclude]
You may already have a formal Data Governance program in […]