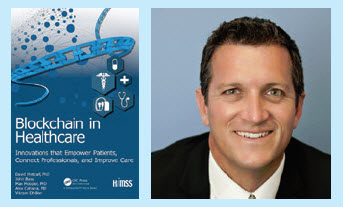 Blockchain in Healthcare – Empowering Patients and Professionals
[glossary_exclude]
Book Preview – David Metcalf, PhD
The pace of change in healthcare over the next 10 years will intensify and with this quickening pace, pressure will be applied to old business models and operating systems.
So many changes are upon us and blockchain-enabled solutions could serve as a foundation for many of them. The automation of transactions through smart contracts and distributed apps are already reshaping healthcare billing transactions, supply chain, licensure, government regulation and healthcare technology financing. This is only the beginning.
Keeping an eye toward the future, the contributors and thought leaders involved in developing the book, "Blockchain in Healthcare: Innovations that Empower Patients, Connect Professionals and Improve Care," which was released at the 2019 HIMSS Conference in Orlando last February, provide an overview of how blockchain is influencing other emerging areas of clinical science, healthcare administration and healthcare technologies.
Our real-world examples and use cases give readers practical ideas about how to apply this technology toward their organizations and existing networks. Examples include the Internet of Things, artificial intelligence (AI), genomics, medical tourism, smart cities and global health. The convergence of these technologies with blockchain is critical to our ability to realize their potential.
ASSESSING THE BLOCKCHAIN IN HEALTHCARE LANDSCAPE
The book is divided into three major sections. First, we explore the foundations and background of blockchain in healthcare. We explore the protocols, networks, and foundational use cases that have created this new movement in healthcare technology. Next, our contributors provide evidence of how the technology is being realized in today's world using credible use cases currently underway. Finally, we provide a view of the future that is as diverse as the intersections of blockchain and artificial intelligence, genomics, medical tourism and how blockchain is being used in smart cities initiatives.
UNLEASHING THE POWER OF BLOCKCHAIN AND ITS POTENTIAL VALUE
Our team believes that the true power of blockchain will be unleashed when you consider blockchain and _ [blank] _. The blank represents:
Any value chain in health or healthcare where there are issues of trust, transparency and incentive alignment.
The important sub-disciplines where blockchain technology can help unlock the potential for automation of complex processes through smart contracts.
The emergence of digital currencies or providing a trusted transaction record for a variety of healthcare operations and functions that can be improved through trust and transparency.
The rise of community-owned solutions that empower consumers.
 CASE STUDIES AND CONVERSATIONS WITH LEADERS IN HEALTHCARE AND BLOCKCHAIN
Throughout the book we provide case studies that explain these concepts and add realism and practicality to an otherwise technical and philosophically driven topic. Plus, editor's notes for each chapter provide further context for why a particular topic is essential and how it links to other parts and the whole of blockchain in healthcare.
The authors of this book have had the privilege of curating some of the best ideas and practical examples of blockchain technology in healthcare since the genesis of it not too long ago, and we are excited to share our findings.
On behalf of all of the authors and contributors, we hope you enjoy the myriad views of blockchain and how it will continue to influence and shape the healthcare and technology landscape. We are only just beginning the journey of the fundamental shifts and disruptions underway in our society.[/glossary_exclude]
You may already have a formal Data Governance program in […]