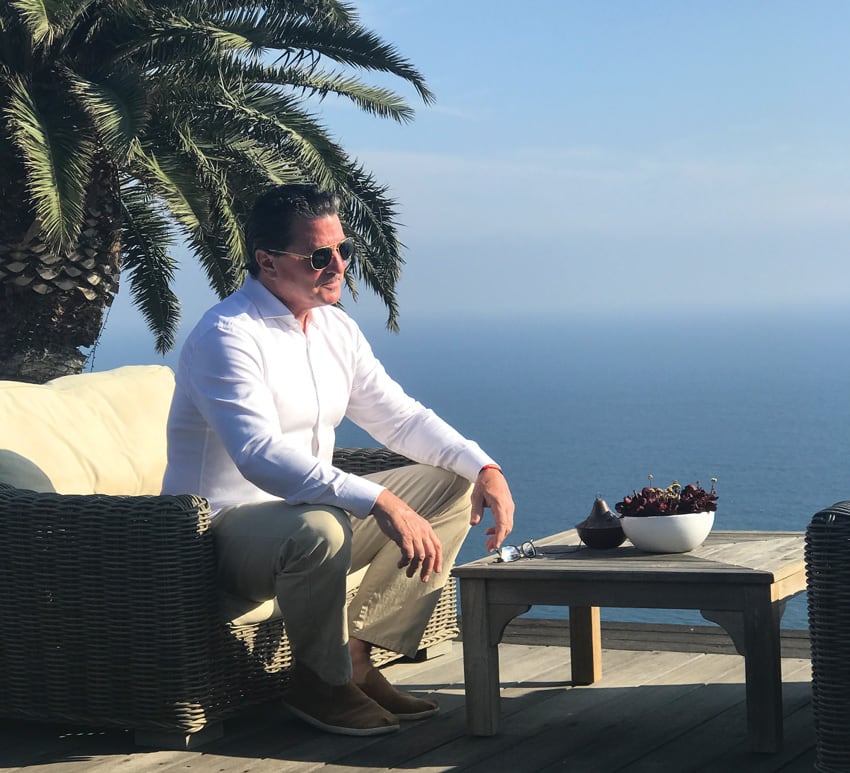 An Interview with Nickolas Rhodes
Content Packing Pioneer
For over 25 years Nickolas Rhodes has been part of senior management for several successful start-up and early-stage companies in programming content and video technology. In launching and building these businesses, he was a strategist for the acquisition of $225 million in committed equity and an operating manager through exit—with over $2.5 billion in asset value created. This included being the lead development executive of four 24-hour sports programming channels, six specialty cross platform content sites, and two 24-hour satellite radio networks. Rhodes is one of a small number of executives who has taken multiple programming offerings from concept and business plan to launch and profitability.
He also served as Managing Director and President/COO of two video software companies that are at the forefront of evolving technologies for video production and were built to meet demands of changing consumer behavior around connected devices. He was part of the executive teams that built regional sports television, interactive sports television deployments, action sports and lifestyle events, and the first Spanish language sports network in North America. He also was part of start-up program syndication properties, and built content packaging blueprints for the music, action, and gaming categories.
InfoGov World: Where did you grow up? Go to school?
I grew up in Waterloo, Iowa, and attended local catholic grade school and high school, and then the University of Iowa.
What are your best childhood memories of Iowa? Do you still make it back?
My best memories of growing up in Iowa in the 70s was that we had to make our own fun—there were no video games, not even cable TV, and certainly no mobile phones. We were on our bikes and largely on our own, just making sure to be home in time for dinner.
I get back to Iowa 2 or 3 times per year, usually around an Iowa football game and a summer family reunion.
How did you get in to the cable TV business?
I moved to L.A. to join Prime Ticket, a regional sports network distributed on cable TV, so I got into the business as a content packager and supplier.
How did your Prime Ticket venture develop? What was unique about Prime Ticket?
Prime Ticket was started by Bill Daniels and Jerry Buss, both legendary individuals. There were less than 20 people at the company when I was hired (at 26 years old).
What was unique about Prime Ticket is the level of talent among the executive team by whom I was mentored and taught the business. John Severino, the former President of ABC Television, then Roger Werner, former CEO of ESPN, Mr. Daniels, of course, and the many sports team owner personalities as our content partners.
Tell us about the SpeedTV/OLN venture, how it got launched, how it developed, and the end result/exit.
I left Prime Ticket after it was sold to Fox/Liberty to join Roger Werner as the first employee of a new content venture when I was 31. I had worked for Roger at Prime Ticket and he was founding what would become Speedvision. Roger has been my mentor and friend for decades now, and as I get older I realized how lucky I was to have him as a boss. Roger built ESPN from 1980 to 1990 before coming to Prime Ticket and the Prime Networks; he was one of the most respected network builders in all of cable. We built a business plan for Speedvision and sought $100mm in equity to build the network. Cox Communications committed to one-third of the funding for Speedvision, and they had agreed to buy the Times Mirror Cable systems and put together a programming venture fund. They put Roger in touch with Times Mirror, who agreed to invest in Speedvision if Roger put his team in place to manage their channel in development called Outdoor Life Network. So we combined the two networks into a single operating plan and then got $200mm in equity to build both. Ironically, Times Mirror pulled back from the investment shortly after committing, creating some real challenges, but Roger was able to replace their investment with Comcast and Continental Cable, giving us more distribution and a more stable launch platform.
In a period of seven years, we went from essentially a blank page to over $250mm in annual revenue and Speedvision and OLN were sold for just under $1.5 Billion in 2001.
In Information Governance, metadata management is crucial. Could you explain how metadata is used to categorize film clips?
When video became digitized, everything changed. It went from tape to files, and the volumes have grown exponentially. We used to "log shots"—essentially pen to paper as the program was being made or during a live sports event.  These logs were transferred along with the physical media—the tapes—into a library where any retrieval was done by hand. We organized it as best we could, but when you needed something you sent an intern into the library and they could be gone for a day or two. It was inherently inefficient.
When the video world went digital, the tape began to fade away in favor of hi-res files stored on servers and proxy files sent to edit bays and in shared projects worked on remotely.
At that point, metadata, taxonomy, and meta schema beyond day, date, location, etc. became crucial in your capability to find, package, and distribute your programming to maximize its potential value. A few years back, when I was President of Levels Beyond, we took on a 400,000-hour NASCAR library and built the metadata around the archives and also as new programming and footage came in weekly. As a result, the entire library could be searched in seconds.
It made the library intuitive: able to cue up categories of potential use as it was tied to social media trending topics. As a specific example, when Jeff Gordon got into a shoving match in the pits one race, the library was cueing up old footage of the early NASCAR drivers beating the tar out of each other.  It's the ultimate in topicality and long-tail use of content.  None of which is possible without the right meta schema.
What are the benefits of good metadata planning and execution in the sports TV business?
You never miss a chance to package a feature or find the right shots for storytelling.  You have to be able to find it first—or you will have a lost opportunity cost.
What are the most challenging aspects of executing a metadata strategy in the sports TV business?
Consistent taxonomy for logging and having the meta properly tied to the right content asset management system so it integrates with all other systems (editing, social, online, internal, etc.)—and can be distributed via a headless, automated distribution to multiple platforms with varying formats—is the objective and it begins at the meta stage. If that's not right, then you will have serious efficiency issues.
How has the sports TV business changed in the last decade or so?
Pretty dramatic changes, really. The fan is connected at all times across multiple platforms and sources of content. Social media and social commentary were only enabled in the last decade and it has changed the experience forever.  Interactivity and insider access is expected and new layers of gamification and virtual athletes are changing the experience as well.
What do you like most about serial entrepreneurship?
There are no excuses and no one to blame.  It's on you and your team. And that can be very rewarding, but it is also sometimes very lonely—because you will fail. What I like the most is knowing that you are attempting to do something new and provide a better experience for your target audience. When you succeed in doing that, there is a legacy and that is satisfying.
You were a high school standout in hoops. Do you still play basketball? 
I still shoot a basketball with my son, but I don't try to run up and down the court anymore. I don't have the hops and you get to an age where joint injuries become more likely and more severe if they happen.
Who was better, Larry Bird or Magic Johnson. Why?
Wow. That's like asking which of your parents you liked better! I won't pick, but instead will offer up why I think they were both so important. They truly are the genesis of the popularity of the modern game, beginning in 1979 when they met in the NCAA final. I was in high school and remember it even today, and then they both went to storied franchises and revived interest in the NBA. Their most important contribution is they made the assist matter: they both passed the ball so well and raised the level of their teammates. The league had been driven by one-on-one and no defense until Larry and Magic arrived, and from that point on a great pass was recognized as much as a great shot. The game changed for the better—forever.
What do you like most about living in Malibu? What do you like least?
Malibu is small community that is full of interesting people living a quiet lifestyle. I love the relaxed vibe, the access to the ocean and mountain trails, the weather, and the progressive attitude among the locals. What I like least is the summer traffic, but that's not much to complain about in the big picture.  It's been a great experience to live here.
What is your favorite lunch spot in L.A.?
The Grill on the Alley.
If you could have dinner with 3 people, living or dead, who would you pick? 
Jackie Robinson, Hunter Thompson, and John Lennon.
How do you know our publisher Robert Smallwood? When did you last see each other?
I've known Bob for almost 40 years. We met in Cedar Falls, Iowa, in 1980 and he was getting ready to graduate; I was at University of Northern Iowa for one year before moving to Iowa City to go to U of I. He's been a pal since. Bob is smart, relentless, and fearless. We last crossed paths for dinner in L.A. a few months back, and enjoyed catching up.
You may already have a formal Data Governance program in […]