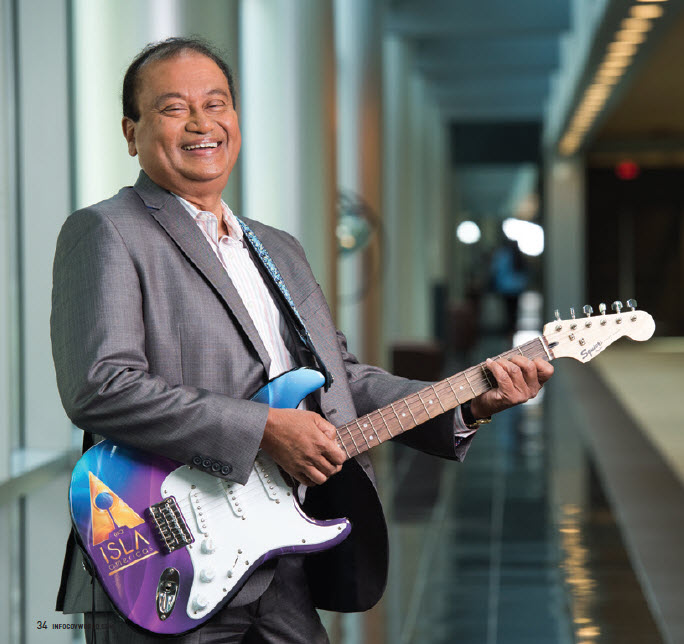 An Interview with Dr. Mansur Hasib, Cybersecurity Leader
[glossary_exclude]Dr. Mansur Hasib is a leader in the cybersecurity discipline, and a respected author and teacher. He has 30 years of experience (including 12 as CIO) leading organizational transformations through digital leadership and cybersecurity strategy in healthcare, biotechnology, education, and energy.  His seminal book
Cybersecurity Leadership
(available in eBook, paperback, and audio) has been widely acclaimed by practitioners and scholars alike and is listed among the best IT and cybersecurity books of all time.
In 2017, he won the International Information System Security Certification Consortium (ISC)2 Americas Information Security Leadership Award (ISLA) for leading the implementation of the Master of Science in Cybersecurity Technology degree program at a major University. He also won the 2017 Cybersecurity People's Choice Award and the 2017 Information Governance Expert of the Year Award.
In 2018, the Global Cyber Startup Observatory, based in Europe, inducted Dr. Hasib into their Hall of Fame and SC Magazine awarded the University the Best Cybersecurity Higher Education Program award. The University won this SC Magazine award again in this year. In 2019 Dr. Hasib was awarded the Outstanding Global Cybersecurity Leadership Award by the ICSIC in Canada.
Mansur enjoys table tennis, comedy, and travel, and has been to all 50 states of the USA.
IGW: Where did you grow up, and go to school?
MH: I grew up and went to school in Bangladesh.
You were raised by a single mother, what did she emphasize to you growing up?
My mom taught me all I know about leadership. She emphasized making lots of friends and sharing knowledge with each other so everyone can be successful. She taught me to focus on things within my control and simply accept and work around things I could not control. She also told me to try as many things as possible in order to find out what I truly enjoyed and what I was good at. She also believed that trying many things develops different parts of the brain. This helped me to develop my interdisciplinary perspective.
You have been a CIO in the past; what sparked your interest in cybersecurity?
I have discussed the following seven CIO roles in my book and also shared these at multiple conferences since 2010:
Strategic Planning
Building and Maintaining Relationships
Cybersecurity
Reliability and Quality
Projects and Services
Promoting the Organization
Team Building
A CIO can never be successful without focusing on the mission success of an organization, the organizational risks, and implementing a proper IG framework. They must also ensure confidentiality, integrity, and availability of information. A CIO must also be able to engage people, policy, and technology to fulfill goals. In addition, they must ensure perpetual innovation. This is the essence of cybersecurity.
What prompted you to pursue your doctoral degree? Who was your favorite professor, and what did you learn from them?
Earning a doctoral degree was always a life goal for me. However, life events made it seem like it would never happen. I entered the fields of network engineering, IT, and cybersecurity as a practitioner and literally had to develop those disciplines with my colleagues as we progressed. We had sparse guidance and only our interdisciplinary business thinking and ethical focus to ensure the success of the organization and the people we were trusted to lead.
Eventually, after a successful career as a practitioner, I wanted to build the next generation of business leaders who would be able to use cybersecurity and digital strategy to power modern organizations—because that is what I felt was needed. I was disturbed at the obsolescence of business curriculums and the haphazard nature of many academic cybersecurity programs. So, in order to enter academia and to develop graduate programs that I felt were sorely needed, I earned my doctoral degree in 2013.
My favorite professor during my doctoral program was Dr. John Cordani, who taught me to understand the role of leadership in the field of cybersecurity. His course triggered me to write several chapters of my book Cybersecurity Leadership. He also served as the chair of my dissertation.
What areas of need do you see that are not generally being fulfilled in cybersecurity education?
Too many cybersecurity education programs focus simply on technology. People, policy—especially the leadership aspects of cybersecurity, are not taught in most programs. Too many have a computer science focus. Too many programs also have artificial barriers to entry. Too many focus on memory-based tests of knowledge. Organizations need doers. Knowing is not enough.
We need people who can apply the knowledge to solve problems. We need people who can critically analyze issues. We also need good programs to be accessible globally at a reasonable cost.
Our competency-based graduate cybersecurity programs at the University of Maryland Global Campus addressed these issues head on. Our innovations led to multiple awards for our programs as well as exponential global growth. We are currently serving 10,000 interdisciplinary graduate students globally. Anyone with a Bachelor's degree in any field is welcome in our graduate program.
What advice would you give to cybersecurity professionals just starting out?
Visit my website https://www.cybersecurityleadership.com and go through all the free videos and learning materials, understand the vast nature of the field and figure out which area they can be passionate about. Network, attend conferences, write, speak, and helpful mentors who can expedite their success.
What major trends and changes do you see rising in the cybersecurity landscape?
I am hopeful that more executives who understand digital strategy will continue to lead and make a difference.
It has been said that the next World War may be fought in cyberspace. What impact do you see emerging from nation-state cybersecurity attacks?
We are already engaged in global cyber warfare. Some glimpses of the impact are already apparent and if left unattended or unaddressed the impact will continue to be amplified.
What is your favorite food, and why do you like it?
This is not an easy question to answer as I have an eclectic palate. However, I do like Chinese food, prepared Bangladeshi style. This food brings back many fond memories.
What is your favorite book, and why?
 Once again, a very difficult question as I cannot single out a book. However, two all-time favorites are:
Good to Great, by Jim Collins, which talks about how executive leadership collaboration and focus on leadership of people can help organizations to thrive; and,
Do the Right Thing, by James Parker, which shares the story of Southwest Airlines and its ethical leadership culture, which shares the fruits of success with all people who contributed to that success—something I feel has always been the foundation of capitalism, but has been eroded over the last several decades.
Dr. Hasib may be reached at [email protected], or follow him on Twitter @mhasib or LinkedIn:  www.linkedin.com/in/mansurhasib.  To access more content, visit www.cybersecurityleadership.com[/glossary_exclude]
You may already have a formal Data Governance program in […]