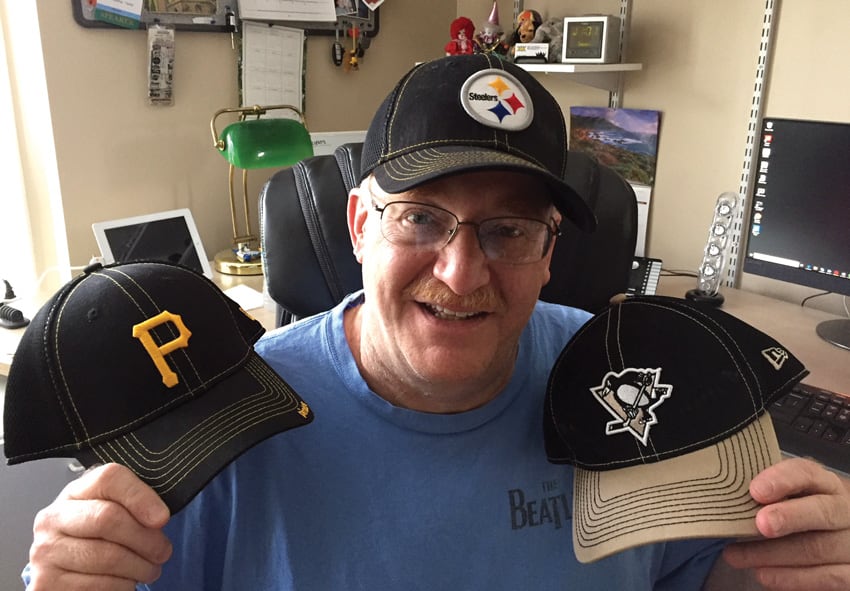 An Interview with Bob Seiner
"I enjoy solving problems with practical solutions and I like working with people who are passionate about improving how their organizations operate. "
Today we caught up with Bob Seiner in Pittsburgh. Bob is President and Principal Consultant of KIK Consulting & Educational Services (KIKConsulting.com).
Robert S. (Bob) Seiner is well-recognized and respected in the information asset management industry (covering data, information, content, and knowledge management) for his tremendous commitment to collecting, recording, sharing his experience, and transferring how-to knowledge about successful practices. Seiner is known as the creator and implementer of the Non-Invasive Data Governance™ approach that has been recognized and adopted as a practical, less-threatening and successful alternative to traditional data governance methods for organizations world-wide.
InfoGov World: Where did you grow up?  Go to school?
Bob: I have lived in and around Pittsburgh, Pennsylvania all my life.  I grew up in the city and moved to the 'burbs many years ago. I graduated with a computer science degree and an MBA from the University of Pittsburgh after originally studying architecture.
How did you get into the data governance field?
I was in the data governance field long before they called it data governance. I met my future boss during my MBA program. During an evening class, he asked me if I wanted to be the first data administrator his company (healthcare) ever had. I told him I'd think about it and I proceeded to quickly research as much as I could about data management. The internet was not prevalent back then.
After accepting my new role, I came across an article titled "Accountability to the Rescue" written by data guru Larry English, who wrote that applying accountability for data was the best way to improve all aspects of data quality. He called it stewardship and I thought: What a novel idea…. I pitched the idea of stewardship to the brand-new and first CIO the company ever had. His response was: "We need that here—get started." Stewardship morphed into governance. And that is how I got my start.
How do you define data governance?
My definition has some intentional grit and teeth. Data governance is the "execution and enforcement of authority over the definition, production, and usage of data." I fully stand behind having a strong definition, especially if it catches people's attention and opens the door for greater discussion. At the end of the day, true governance over data or information requires executed and enforced authority.
Some of my clients ponder that the definition is too aggressive. These clients do not like the words "execution and enforcement," so they tone it down to something less aggressive like "formalized behavior for the management of data." That is my definition of data stewardship.
How has the field of data governance changed in the last decade?
From a discipline perspective, I do not think data governance has changed that much in the past decade. There are certainly more software tools, regulations, and experts (sic) than ever. The tools can be very helpful when applied at the proper time, for the proper reason. The regulations are not optional, and the abundance of newer regulations give many organizations the reason they need to implement formal governance over data. More experts lead to more competition. I find that my experience in the field, along with my innovative, yet practical approach to data governance, sets me apart from much of the competition.
What is the most important factor in setting up and running an effective data governance program?
The most important factor is to begin and stay non-invasive in your approach to data governance. What I mean by "non-invasive" is that governance already exists in most organizations—albeit it is often informal, inefficient, and ineffective. As an example, all people who handle sensitive data must be held accountable for how they handle that data. All people who define data must be held accountable for how the data is defined, and data producers must be held accountable for the data they produce.
I've said before that, potentially, everybody is a data steward—meaning that they must be held accountable for their relationship to the data. This increases the number of stewards you have, which, in turn, presents challenges to the people running the data governance program. Formalizing accountability is much less invasive than giving people new roles and responsibilities. There are many ways to stay non-invasive. Just ask if you want to learn more.
You wrote a book titled, Non-invasive Data Governance. Could you describe the key concepts behind your approach?
The complete title is Non-Invasive Data Governance: The Path of Least Resistance and Greatest Success. The book has been a data governance bestseller on Amazon since 2014. I shared some of the key concepts to my approach in my answer to the last question. Other key concepts include applying governance to process rather than redefining process and leveraging existing governance that takes place in many different forms—info security, compliance, protection, standardization, and more.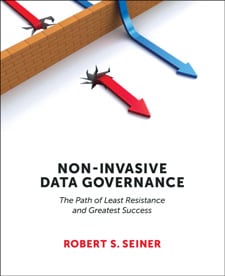 The book is also available in audible format, but I suggest not listening to it while driving. I also have an online learning plan and monthly webinar series with Dataversity. I also share information about my approach at events across the country and around the world each year. If you want more information on the concepts of non-invasive data governance, I have made certain that it is available.
What do you enjoy most about consulting work?
I enjoy solving problems with practical solutions and I like working with people who are passionate about improving how their organizations operate. The issues associated with improving data management can be consistent from organization to organization, while the solutions may be completely different depending on the organization's culture and management acceptance. These things keep me very engaged.
Tell us about your TDAN.com newsletter. What does it cover, how often does it go out, how many readers to you have, and where can our readers go to sign up for it?
By now, you can probably tell that I am fully invested in the data space. I have published my online newsletter, The Data Administration Newsletter (TDAN.com), since 1997. The publication is as old as my youngest daughter.
The publication started quarterly, transitioned to monthly, and now it is published twice a month on the 1st and 3rd Wednesdays. I average between 30 and 35 thousand visitors a month and my registered reader base numbers in the tens of thousands.
Each issue of the publication contains articles, quarterly columns from industry leaders, blogs, and special features about all aspects of data management and data administration including governance, big data, business intelligence, data analytics, data quality, and much more. Since data and Information Governance are favorite subjects of mine, you will find many articles on those subjects.
People can sign up for the newsletter at no cost by clicking on the appropriate banner on TDAN.com's front page. You can expect emails a few times a month about the new content.
What is your favorite sports team, and why?
Now you are talking my language. I am fortunate to live in Pittsburgh, where our professional and college sport teams almost always land near the top of the standings. I watch my Pirates, Penguins, Panthers, and obviously the Steelers with great interest. The first question I receive from people who learn I am from Pittsburgh is: "Are you a Steelers fan?" Well, duh.
What is your favorite city to travel to, and why?
I think San Diego is one of my favorite cities in the U.S. The climate is typically perfect and there is something for everybody there—from the beach and the ocean to the desert and the zoo and the parks. Well, you catch my gist. I am fortunate to speak at data conferences in San Diego often and I always look forward to going there. Maybe I will see you there next time?
What special talent, skill, or hobby do you have that might surprise your colleagues?
I have always loved music and sports. I grew up on music and sports. I was a DJ on the campus radio station in college and you will always find music playing in my car and in my office. I listen to mainstream music, but add to it jazz, blues, big band, and good old progressive and classic rock. It seems like I have a knack for picking out words of songs that are perfect for every situation. Data is fun and challenging stuff, sports are exciting, and music is the soundtrack of my life. Thanks for asking!
You may already have a formal Data Governance program in […]