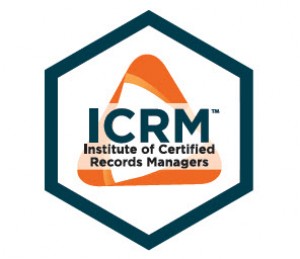 ICRM – Institute of Certified Records Managers & CIGO Association announce Strategic Alliance
[glossary_exclude]TO OFFER NEW CRM/CIGO CERTIFICATION
Albany, NY and San Diego, CA, October 1, 2020 – The Institute of Certified Records Managers (ICRM) and the Certified Information Governance Officers Association (CIGOA) announce a strategic alliance partnership to jointly offer a new information governance (IG) credential for Certified Records Managers, the CRM/CIGO (Certified Information Governance Officer).
The new CRM/CIGO certification process includes a training and testing program that is 100% online. The training is a master class in IG, followed by a week of study, and the CIGO certification examination. CRMs may enroll in the program at special rates for a limited time and pay no application fee or CIGO membership fee.
The CRM/CIGO certification application will be on the ICRM.org website starting October 16, 2020. When a CRM applies for the CRM/CIGO, a discount code will be provided. Then registration for the training and examination will occur on the CIGOA.org website. The discount code for the training and examination will be applied at checkout.
"We are delighted to partner with CIGO Association to offer our members additional education and certification that will advance their credentials while remaining under the "CRM" umbrella," said ICRM Chair, Cheryl Pederson, CRM, FAI.
CRM/CIGO certification will follow ICRM rules and procedures. CRM yearly membership fees are not increased due to the CIGO certification, however, an additional 20 CMPs in the IG discipline will be required per five year cycle and will be prorated on an annual basis.
Robert Smallwood, Chair of the CIGO Governing Board, stated, "The CIGO is the new gold standard IG training and certification credential, and we look forward to helping to add value to ICRM members, while fostering the maturation of the IG discipline."[/glossary_exclude]
You may already have a formal Data Governance program in […]