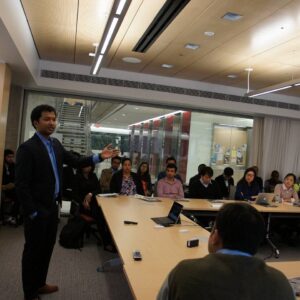 Today we are visiting with data governance expert Sowmya Kandregula, Chief Data Officer at D.C.-area boutique consulting firm that specializes in integrating, consolidating and enriching data. 1. Where did you grow up? Go to school? I grew up in Vishakhapatnam, a city located in southern India, also called as the ...
Read More →

→
Born near Oxford, England to an English rose and an American soldier, Teresa Pritchard Schoch grew up as a dual citizen learning to behave properly whether in the mountains of Tennessee, or in London town. She loved school and was drawn to literature, art and music. She worked her way ...
Read More →

→
Mike Quartararo has been solving problems in e-discovery and IG for 20 years. Mike is an author, teacher, and thought-leader, and holds certifications in e-discovery (CEDS) and project management (PMP). He has built his career upon strategic and innovative thinking, leadership, and operational skills honed at the best legal ...
Read More →

→
Christopher Surdak is an industry-recognized expert in Mobility, Social Media and Analytics, Big Data, Information Security, Regulatory Compliance, Artificial Intelligence and Cloud Computing with over 25 years of experience. Chris was literally a rocket scientist - he began his career with Lockheed Martin Astrospace, where he was a spacecraft systems ...
Read More →

→
Andrew Ysasi has over 20 years of professional experience in records management, including sales, IT, and management roles, leading to ten years of executive management at Kent Records Management, which was acquired earlier this year by Vital Records Control (VRC). He is passionate about helping people and organizations succeed and ...
Read More →

→
Dr. Mansur Hasib is a leader in the cybersecurity discipline, and a respected author and teacher. He has 30 years of experience (including 12 as CIO) leading organizational transformations through digital leadership and cybersecurity strategy in healthcare, biotechnology, education, and energy.  His seminal book Cybersecurity Leadership (available in eBook, paperback, ...
Read More →

→
Monica Crocker is the Group Records Coordinator for Wells Fargo's Wealth & Investment Management business. In her role, she mitigates the risk associated with electronic and physical records. She began her career as a Digital Imaging Consultant in 1993, defining electronic content and records management strategies for government organizations across ...
Read More →

→
Ken Withers is the Deputy Executive Director of The Sedona Conference. Since 1989, he has published several widely-distributed papers on electronic discovery, hosted a popular website on electronic discovery and electronic records management issues, and given presentations at more than 300 conferences and workshops for legal, records management, and industry ...
Read More →

→
Susan Bennett is a leading Information Governance expert and an international privacy lawyer, based in Sydney, Australia. She established her own business seven years ago, Sibenco Legal & Advisory, and subsequently Information Governance ANZ. Prior to this, Susan spent over 20 years specializing in large-scale commercial litigation, inquiries, and royal ...
Read More →

→
Fintech from Across the Pond Devie is a fintech marketing strategy and research professional with years of experience. She has worked in strategy, marketing, and analysis roles in firms like Goldman Sachs, Thomson Reuters, Ericsson, IBM, USAID, and SunTec. She is a consultant and researcher for several fintech startups, banking ...
Read More →

→
BANKING ON IG Matthew Bernstein is the founder of MC Bernstein Data. The company helps organizations meet the significant and increasing IG risks they face by changing the way systems and people manage information. They employ a proprietary Information Governance Operating Framework to efficiently assess and remediate IG risks. Their ...
Read More →

→
Nicolas Economou is the chief executive of H5, a legal automation provider. He was a pioneer in advancing the application of artificial intelligence (AI) in legal systems and in advocating norms for its governance. He chairs the Law Committees of the IEEE Global Initiative on Ethics of Autonomous and Intelligent ...
Read More →

→
George Socha is a Managing Director in BDO's Forensic Technology Services practice. Named an "E-Discovery Trailblazer" by The American Lawyer, he assists corporate, law firm, and government clients with all facets of electronic discovery, including information governance, as an expert witness and consultant. George has served clients in a variety ...
Read More →

→
Vicki Lemieux is an associate professor of archival science at the iSchool and lead of the Blockchain research cluster at the University of British Columbia –Canada's largest and most diverse research cluster devoted to blockchain technology. Her current research is focused on risk to the availability of trustworthy records, in ...
Read More →

→
Doug Laney is vice president and distinguished analyst with the Gartner Chief Data Officer (CDO) research and advisory team. Doug researches and advises clients on information monetization and valuation, open and syndicated data, analytics centers of excellence, data governance and Big data-based innovation. He is the author of Gartner's Enterprise ...
Read More →

→
Sonia Luna is the founder, CEO and President at Aviva Spectrum. Winner of the 2018 California Cannabis Awards as "Best Accountant," Mrs. Luna has more than 18 years of compliance, internal and external audit experience. In 2014 she was appointed by SEC Chair Mary Jo White to the Advisory ...
Read More →

→
British military leadership prepared him for defense against cyber threats. Oz Alashe MBE leads the UK cybersecurity firm CybSafe and has been the driving force behind the CybSafe concept, vision and platform. Oz is a former Lieutenant Colonel in the British Army and UK Special Forces. He has a successful ...
Read More →

→
Dr. Pat Franks authored Records and Information Management (2013, 2018) and co-edited the Encyclopedia of Archival Science (2015), Teaching and Learning in Virtual Environments: Archives, Museums, and Libraries (2016), and the International Directory of National Archives (2018). Currently she leads a team exploring Blockchain Technologies through the 3D PDF ...
Read More →

→
The Honorable Ronald Hedges is a former U.S. federal judge, and member of the Litigation and Dispute Resolution practice group at Denton's, the world's largest law firm. He has extensive experience in e-discovery and in the management of complex litigation and has served as a special master, arbitrator and ...
Read More →

→
Richard Kessler is a Director in the Cyber Services practice at KPMG, and specializes in IG, data governance, and operational risk control. He is part of the Strategy and Governance pillar with a specific focus on enterprise data and IG, and privacy. He advises firms on ways to design and ...
Read More →

→
Helping third world Citizens establish Identities with Blockchain Growing up in poverty in Bombay, Ashish never forgot how it felt to stand in food lines to survive. He went on to build a successful career as a serial entrepreneur, serving as founder and CEO of multiple technology startups delivering global ...
Read More →

→
John Isaza, Esq., FAI heads the Information Governance & Records Management practice at Rimon Law Firm in Orange County, California, and is CEO and Co-founder of Information Governance Solutions LLC. Mr. Isaza is internationally recognized in the fields of IG, as well as RIM. He is one of the country's ...
Read More →

→
Heidi Maher had a unique childhood, growing up in Iran, where her mother worked as a nurse volunteer for the U.N. When the political environment changed for the worse after the 1979 Iranian revolution, her family immigrated to the United States. During that process her family lost their life savings, ...
Read More →

→
Of Counsel to the Information Governance and eDiscovery Group at Drinker Biddle & Reath LLP Mr. Baron's career has included serving as lead trial counsel for the Justice Department in landmark litigation involving the preservation of White House emails, and being appointed as the first Director of Litigation at the ...
Read More →

→
Content Packing Pioneer For over 25 years Nickolas Rhodes has been part of senior management for several successful start-up and early-stage companies in programming content and video technology. In launching and building these businesses, he was a strategist for the acquisition of $225 million in committed equity and an operating ...
Read More →

→
Robert F. Smallwood, MBA, CIP, IGP is a thought leader in Information Governance, having published seven books on IG topics, including the world's first IG textbook, which is being used in many graduate university programs, as well to guide corporate IG programs. His latest book is Information Governance for Healthcare ...
Read More →

→
"I enjoy solving problems with practical solutions and I like working with people who are passionate about improving how their organizations operate. " Today we caught up with Bob Seiner in Pittsburgh. Bob is President and Principal Consultant of KIK Consulting & Educational Services (KIKConsulting.com). Robert S. (Bob) Seiner is well-recognized ...
Read More →

→
Information Governance encompasses a variety of disciplines under one umbrella, and we here at InfoGov World realize we are attempting something groundbreaking by trying to pull them together. Among these disparate threads is eDiscovery: Electronic discovery (also e-discovery or eDiscovery) is locating, securing, and searching for data and documents that ...
Read More →

→
Arlette Walls is Chair of the Pharmaceutical Records and Information Management Organization (PRIMO) Today we are talking with Arlette Walls, an Information & Compliance Manager based in Emeryville, CA. She has 13 years of experience in records management and Information Governance-related functions, including regulatory affairs, archiving, compliance, and information security/risk ...
Read More →

→
Paula is a leading RIM Expert, Partner at IMERGE Consulting Today we are talking with Paula Lederman, Partner at IMERGE Consulting. Paula has over 15 years of consulting and training experience in the field of content and information management in both the public and private sectors. Her extensive education and ...
Read More →

→
Sitting down with the in-demand author and speaker Judy has over 25 years of experience in insurance coverage litigation. She has particular expertise in cyber insurance and coverage under various policy forms for today's emerging risks. As well, she is a prolific author and sought-after speaker on insurance, cyber, technology, ...
Read More →

→
"The largest and most important legal technology event of the year" Legaltech, a must-attend event ...
The 2019 HIMSS Global Conference is the leading health information and technology conference, bringing together 45,000+ ...
The AIIM Conference was officially launched in 2012.  Our annual event brings together over 600 ...
1,500+ attendees The Prime Event for Information Professionals to Connect, Learn, and Shape the Profession ...
The 23rd Annual Enterprise Data World (EDW) Conference is recognized as the most comprehensive educational ...
Now in its 22nd year, Black Hat USA is the world's leading information security event, providing ...
DEF CON (also written as DEFCON, or Defcon) is one of the world's largest hacker conventions, held annually ...
The greatest data-driven products and services aren't great until privacy is part of the equation. ...
43rd Annual Conference. NIRMA – the Nuclear Industry's Leader in Information and Records Management A not-for-profit organization, ...
Attracting more than 5,000 registrants from around the world, representing the best and brightest in ...
Gartner's Catalyst Conference takes – a deep dive into technical trends and topics that are ...
Strategy Summit for Analytics Where company leaders learn how to prepare for what's ahead in ...
The CIO 100 celebrates technology innovation and provides leadership insights and business strategy for excelling ...
ILTACON is a four-day educational conference that draws on the personal and collective strengths of ...
The ARMA Conference is the premiere event for records and information management professionals to learn ...
The ACC's Annual Meeting provides In-Housel Counsel with the chance to connect, network and learn ...
Connect with information security, cybersecurity, business and technology professionals across a few days of compelling ...
Healthcare information security breaches now happen at least once per day, according to HIPAA Journal. ...
Legalweek New York is the week in which various segments of the legal industry gather ...
You'll be able to choose from a broad range of topics so you can customize ...
Privacy Driven. Member Powered. The World's Most Prestigious Privacy Conference This April, Washington, D.C., will ...
The Conference for Intelligent Information Professionals Let us help you solve your biggest information-driven challenges ...
The path to leveraging information value: From Information Governance to Infonomics. Is data the new ...
The MER Conference delivers the very latest insights to eRIM decision-makers and influencers inspiring confidence ...
Unlocking Data Value with Infonomics and Data Exchange The event will be held on a ...
The Conference for Information Management Professionals features keynote speaker Erik Qualman. AIIM's mission is to ...
Insight Delivered | Confidence Inspired Keynote – Gary M Stern, Esq. NARA's Chief Legal Officer ...
ISACA is the Information Systems
Audit
and Control Association. In 2021, their annual conference promises: ...
IG World magazine is pleased to announce the world's first global Information Governance (IG) conference, ...
Coming soon – more resources and opportunities to share!
Our new website is just getting started, in the coming weeks we will add...
We welcome your participation and encourage you to submit suggestions for topics to be covered in future issues.